Widows
(2018)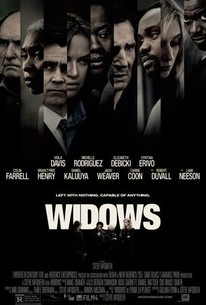 TOMATOMETER
AUDIENCE SCORE
Critic Consensus: Widows rounds up a stellar ensemble for a heist thriller that mixes popcorn entertainment with a message - and marks another artistic leap for director Steve McQueen.
Movie Info
From Academy Award (R)-winning director Steve McQueen ("12 Years a Slave") and co-writer and bestselling author Gillian Flynn ("Gone Girl") comes a blistering, modern-day thriller set against the backdrop of crime, passion and corruption. "Widows" is the story of four women with nothing in common except a debt left behind by their dead husbands' criminal activities. Set in contemporary Chicago, amid a time of turmoil, tensions build when Veronica (Oscar (R) winner Viola Davis), Alice (Elizabeth Debicki), Linda (Michelle Rodriguez) and Belle (Cynthia Erivo) take their fate into their own hands and conspire to forge a future on their own terms. "Widows" also stars Liam Neeson, Colin Farrell, Robert Duvall, Daniel Kaluuya, Lukas Haas and Brian Tyree Henry.
News & Interviews for Widows
Critic Reviews for Widows
Audience Reviews for Widows
Led by a near-elite cast, Widows evokes a thrilling and brash drama. Steve McQueen's distinctive direction and Gillian's Flynn's twist-filled narrative create for a film that interestingly reverses the roles and executes in grand fashion. 4.05/5
Eugene Bernabe
Super Reviewer
½
Widows has an all-star cast, an Oscar-nominated director, and a best-selling novelist-turned screenwriter, so my expectations might have been turned up a bit too high. It follows a team of titular widows (Viola Davis, Michelle Rodriguez, Elizabeth Dibecki) picking up the pieces in the wake of their husbandsâ(TM) deaths. It seems their dearly departed spouses stole money from a local criminal who very much demands the sum returned. The women must enter into a criminal heist, using notes left behind by a dead hubby, to settle the debt and spare their lives. Widows is a higher caliber crime movie with notable texture given to a wide assortment of characters; even the villains are given small character touches to better flesh them out and feel more realized. Thereâ(TM)s a concurrent election tying together different corrupt and criminal enterprises that widens the scope of the film into a grander scale. The characters and performances are the selling point of the movie and provide consistent entertainment. Davis (Fences) is the strong-willed linchpin of the group and I could watch her boss around people for hours. Dibecki (The Great Gatsby) has a nice turn as a trophy wife accustomed to being abused. The problem is that there might be too many characters. Rodriguez has far more significance in the first thirty minutes and then is put on ice. Likewise, Cynthia Erivo are hastily added when the plot requires something of them. That plot, adapted by Gillian Flynn (Gone Girl) and director Steve McQueen (12 Years a Slave), proves to be the filmâ(TM)s biggest hindrance by the end. The second half plot turns seem to come from a more genre-y version of this story, not the classier version we had been treated to beforehand. There are character decisions that baffle credulity and personal safety. The quality of the characters deserved a movie that could refrain from the hacky genre twists. McQueenâ(TM)s precise camerawork is still alive and well and highlights tension and also moments of social commentary, like when we watch a car travel mere blocks from a rundown inner city neighborhood to a fancy gated residence. Thereâ(TM)s a lot to like with Widows, and plenty to get excited about, but I wanted to like even more. Nateâ(TM)s Grade: B
Nate Zoebl
Super Reviewer
While making it always clear that this is in essence a heist film, Steve McQueen finds space for an intelligent commentary on race, gender and social class here as well, creating a taut combination of entertaining thriller and serious drama that benefits from great performances.
Carlos Magalhães
Super Reviewer
Widows Quotes
There are no approved quotes yet for this movie.