Watching the Detectives
(2007)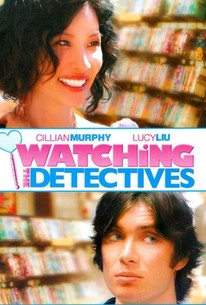 AUDIENCE SCORE
Critic Consensus: No consensus yet.
Movie Info
A film freak has his life turned upside down when he starts dating a real-life femme fatale in this comedy. Neil (Cillian Murphy) is a dyed-in-the-wool movie fan who runs a video store, "Gumshoe Video," specializing in classic film noir and offbeat cult items. Neil spends nearly every evening on the couch, soaking up classic movies from the blue glow of his television; Neil's lack of a social life has not been good for his relationships with women, and his latest girlfriend walked out on him after he declared he wanted her to be more like Katharine Ross in Butch Cassidy and the Sundance Kid. But then Neil meets Violet (Lucy Liu), a sexy and adventurous woman who is immediately taken with him. However, Neil soon decides Violet may be a bit too adventurous -- while he's content to get his excitement from watching movies, she would rather throw herself into thrilling situations rather than observe them from a distance, and her appetite for danger proves to be far more than he bargained for. Watching the Detectives was the first directorial effort from Paul Soter, who as a member of the Broken Lizard comedy troupe helped write the films Super Troopers and Beerfest.
Critic Reviews for Watching the Detectives
All Critics (2) | Fresh (0) | Rotten (2)
Even mega-fans of either of the headliners will have trouble muddling through it.
August 22, 2008 | Rating: 2/5
It looks like it's back to doling out parking tickets and shotgunning booze for Mr. Soter, and I think Cillian's probably learned a valuable career lesson here as well.
December 18, 2007 | Rating: 2/5
Audience Reviews for Watching the Detectives
I loved this movie!!! I want may boyfriends to be like Cillian Murphys character!! love love love. I think this is Luci Lus best performance. She is so quirky and fun. There is never a dull moments in this cute and fresh film.
Morgan Salem
Super Reviewer
This was so funny. Cilllian Murphy was so great as a gullable pathetic guy. Lucy Lui, well, how do I put it, her character probably tops Clementine in Eternal Sunshine. She was so incredibly lovable in every way. The movie was full of Hilarius shots of Cillian Murphy crying and dressing up like old movie characters that would be worth watching on its own. The plot is great though. You never quite know what's going on, not even until the credits role, which was really interesting. I also loved that this is a movie for movie lovers with countless references to cult classics. It gets so hardcore that it brings up the question of which Invasion of the Body Snatchers is better, priceless.
Conner Rainwater
Super Reviewer
As a huge fan of the Broken Lizard boys it was nice to see one of them break free as a director on a completely different style of film. The laugh out loud moments have been replaced by scenes that inspire quiet quirky giggles. It's a nice enough romantic comedy, but the quirky girl thing has been done too much of late. The film juggles it's message uncomfortably, and soon just becomes a repetitive cycle, with bluff after bluff after bluff. It's an easy watch and one that has enough entertainment value in it's 90 minutes to justify a watch.
Luke Baldock
Super Reviewer
Watching the Detectives Quotes
There are no approved quotes yet for this movie.