Walking With Dinosaurs
(2013)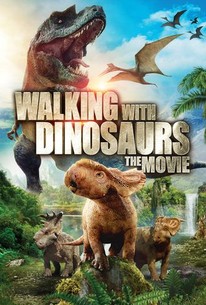 TOMATOMETER
AUDIENCE SCORE
Critic Consensus: Walking with Dinosaurs boasts painstaking visual brilliance, but it's unfortunately clouded by a clumsy script that's dominated by juvenile humor.
Walking With Dinosaurs Photos
Movie Info
For the first time in movie history, audiences will truly see and feel what it was like when dinosaurs ruled the Earth. WALKING WITH DINOSAURS is the ultimate immersive, big screen adventure for families. Meet dinosaurs more real than you've ever seen as you take off on a thrilling prehistoric adventure, where Patchi, an underdog dinosaur, triumphs against all odds to become a hero for the ages. (c) Fox
News & Interviews for Walking With Dinosaurs
Critic Reviews for Walking With Dinosaurs
Audience Reviews for Walking With Dinosaurs
Like Trix, this is strictly for kids despite the BBC's imput on the production's credit. Some dinosaurs living out their existence in essence, migrating here and back again, with the characterizations humanized for your kids palate, i.e. lots of poopy jokes. Great if you need some nap time though.
Kevin M. Williams
Super Reviewer
A Nice Family Film Decent Kids Movie! If you see this expecting a grown-up style documentary, you'll be disappointed. It's clearly made for a very young audience, and I think they did a fantastic job in that regard. The animation was fantastic,it was quite educational, it had characters that the kids fall in love with, and it wasn't too long. If you like watching your kid really enjoy something, take them to this film. If you want something for the entire family, including grown ups, then you're better off with something else. For the first time in movie history, audiences will truly see and feel what it was like when dinosaurs ruled the Earth. "Walking with Dinosaurs" is the ultimate immersive experience, utilizing state of the art 3D to put audiences in the middle of a thrilling and epic prehistoric world, where an underdog dino triumphs to become a hero for the ages.
½
The BBC hit Hollywood as they upgrade their popular 1999 miniseries to the silver screen. The original British series was a simple educational natural history documentary but it was all done with flashy CGI and animatronic puppets. Although the actual idea of a series all about dinosaurs wasn't completely original it was simply all about the movie style visuals which made it a hit. The concept includes quite a few series following on with the 'Walking with...' title. I guess this brings us to the fundamental problem with this film, the decision to be sell outs and whore the idea out Hollywood style. There is nothing wrong with an educational film of course, but this isn't it. The whole idea was to be a slick documentary with insightful narration...usually based around a few dinosaurs and a section of their lives. This film takes that idea but ruins it with God awful stereotypical Hollywood blockbuster garbage of the hammiest order. You have a spectacular looking Cretaceous period complete with stunning live action locations and pixel perfect dinosaurs, but its all virtually destroyed by giving the dinosaurs inept conventional teenybopper type voices and adding horrible songs along the way. I can't stress enough how good this film looks, it is truly beautiful and showcases our home planet in all its glory from dawn to dusk. The dinosaurs are all fantastically rendered in every frame and look...perfect!. Every scale, every feather, skin pigmentation, tooth, eye, posture, walk, stance, growl, roar, squeak, swoop etc...its all created with awesome detail. So much so its hard to think it could be wrong in any way but I'm sure in years to come new discoveries will arise. Its just such a monumental shame they crowbarred in these stupid cheesy voices to obviously appeal to the kids. I say crowbarred because it feels like it was an after thought, the dino's mouths/lips don't move with the voice work (a proper realistic approach) so it looks like they are thinking everything. Plus they all seem to roar/squawk/growl/whine in real time over the voice work which is odd. A dino will say something like 'hello' but you'll still hear the realistic dinosaur growl too, its like the powers that be couldn't decide what to do. Wouldn't be too bad if the voices were any good but they're so dumb and cliched, you know how this goes. Also they use in-jokes about the future, the past and different periods, plus words like 'ninja'. Yeah I know I'm being really picky but it just feels ridiculous and totally pulls you out of the film or the moment. The story is of course the age old tale about the life of a young dino who falls in love with another girl dino, their herd migrates across the land, they encounter danger from predators, get separated, must fight to survive and eventually find the herd again whilst fending off more nasty predators that should be Tyrannosaurus-Rex's but aren't. Its the usual coming of age story for a dinosaur which felt really really STALE, surely they could of come up with something else!. On top of that the main dino's have a sidekick along for the trip as you'd expect and all the usual kind of mishaps these types of films usually throw at you, I really shouldn't need to tell you more. The other thing that kinda bewilders me is why do this, its been done in the TV series and they've covered quite a few periods, so why make a movie of the same thing?. There is no real new ground here, not much educational stuff for kids and of course the plot is dreadful so its a complete waste of time. I'm sure dinosaur obsessed kids will enjoy it for the spectacle but surely watching the TV show would be far more beneficial. I really hate to be negative about this film as it has good intentions and has been created with a lot of love care and a tremendous eye for details. Personally I think the film would have worked a lot better just keeping Leguizamo narrating the story as the bird and cutting out all the other voices. Then you would have something much closer to the original source and it wouldn't come across as so infantile and corny. The film is instantly obsolete because of the far superior TV series (despite its age) which offers more in depth information and a multitude of dinosaurs/mammals from all periods. This film gets plus points for visuals alone but overall it feels like a vacuous emotionless waste of everybody's time. Did they really make this just to show off their CGI dinosaurs? seems like it.
Phil Hubbs
Super Reviewer
Walking With Dinosaurs Quotes
There are no approved quotes yet for this movie.