The Wife
(2018)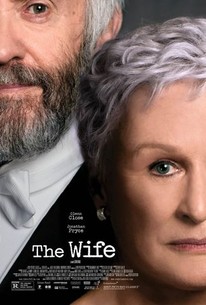 TOMATOMETER
AUDIENCE SCORE
Critic Consensus: The Wife relies on the strength of Glenn Close's performance to drive home the power of its story -- and she proves thoroughly, grippingly up to the task.
Movie Info
After nearly forty years of marriage, JOAN and JOE CASTLEMAN (Glenn Close and Jonathan Pryce) are complements. Where Joe is casual, Joan is elegant. Where Joe is vain, Joan is self-effacing. And where Joe enjoys his very public role as Great American Novelist, Joan pours her considerable intellect, grace, charm, and diplomacy into the private role of Great Man's Wife. Joe is about to be awarded the Nobel Prize for his acclaimed and prolific body of work. Joe's literary star has blazed since he and Joan first met in the late 1950. THE WIFE interweaves the story of the couple's youthful passion and ambition with a portrait of a marriage, thirty-plus years later--a lifetime's shared compromises, secrets, betrayals, and mutual love.
News & Interviews for The Wife
Critic Reviews for The Wife
Audience Reviews for The Wife
½
The movie certainly has interesting criticisms of male ego, although I wish it had little more wit and venom. The reason to see this is for Close, a single look from her conveys a thousand emotions. It's a remarkable performance.
Alec Barniskis
Super Reviewer
THE WIFE (3 Stars) If Glenn Close wins the Oscar for this, it will be well-deserved and not the Al Pacino/SCENT OF A WOMAN award for past legendary performances. She holds a master class in controlled, silent rage in a film which, unfortunately, would have been better realized as a stage play. The 11th hour on-the-nose dialogue feels like a misstep, but what comes before works so well in showing off a thoughtful, true, unexpected study of a life subjugated to a man who got to coast.
Glenn Gaylord
Super Reviewer
"There's nothing more dangerous than a writer whose feelings have been hurt." The Wife is one of those movies you'll want to watch again as soon as you finish it the first time if not for how intense or fascinating it is, but for the delicately layered elements of perception versus reality that both Glenn Close and Jonathan Pryce convey over the course of it. The Wife may look like your typical stuffy, Oscar drama fueled solely by the performances of its illustrious lead and while it most definitely is all of those things it also turns out to be much more than this; a searing portrait of intimacy and how as much between two people can be both the most familiar and painful thing in ones life. Bonus points for good turns from Christian Slater and Max Irons. Bonus bonus points for having Annie Starke, Close's real-life daughter, beautifully portray the younger version of Close's Joan. The way Starke compliments her mothers performance hammers home the personal betrayal at the heart of the film.
Philip Price
Super Reviewer
The Wife Quotes
There are no approved quotes yet for this movie.