The Ward
(2011)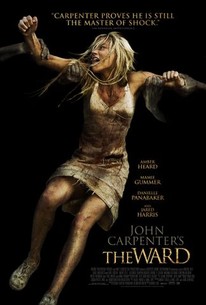 TOMATOMETER
AUDIENCE SCORE
Critic Consensus: Lacking the hallmarks of his best work, The Ward proves to be a disappointingly mundane swan song for director John Carpenter.
Movie Info
A thriller centered on an institutionalized young woman (Amber Heard) who becomes terrorized by a ghost. -- (C) Arc Entertainment
News & Interviews for The Ward
Critic Reviews for The Ward
Audience Reviews for The Ward
People are just too mean to this latest John Carpenter film. The man hadn't made a film in ten years, and he has had a long and illustrious career. Not only that, but he directs widely acknowledged camp and horror films. This film, though certainly flawed, overindulgent, and mindless at times, is nothing worse than he had previously put out. There are a lot of great elements at work in this film, but it also has a bland follow-through and a hollow ending. There seem to be a lot of great things about the film, but nothing that brings it together to make it anything close to memorable. Carpenter cast indie darling Amber Heard, who is reaching acclaim in roles that usually have her driving fast cars, giving guff, and wearing breast baring clothing. This film is no different, as her first scene has her barefoot, wearing a slip, and covered in dirt. She is exploited, as are others, as the entire film revolves a group of girls. Kristen (Heard) is admitted to a psychiatric ward where she meets several other girls, each of whom are as bland and tasteless as the next. That's the one horrendous oversight in this film: none of the characters could be real people. Female characters are not well written in most films, I understand that, but here they made up the entire film which is too much to bear. They throw in a really cutesy little girl persona onto a young woman as well, and it's the most despicable thing I've ever seen. Still, having the setting be a 1966 psychiatric ward, having period clothing and sets, and having a ghost who is psychologically disturbed terrorizing and murdering patients? That sounds amazing. Even the ending was at least a bit inspired and somewhat original. The execution was just all wrong. Carpenter has done some amazing things with goofy premises before, but here he doesn't reign in the temptation to be crass and shallow. It's just not big enough or smart enough to understand its own premise, and that's a true shame, because this could have been as eerie and intelligent as "The Haunting" if it was given a chance.
Spencer S.
Super Reviewer
Horror master John Carpenter has been absent for quite some time. This is his first directorial effort since Ghosts of Mars which was released in 2001. This is a film that had the potential of being a terrific supernatural horror movie. However this happens to be a dull, bland and unimpressive affair. John Carpenter, who is one of most legendary of horror directors, crafts a film that is formulaic and predictable. This had a very promising start, but in the end it fails to really grab your attention and it focuses more on delivering cheap scares and boring, not so well written dialogue. Carpenter has done far better work than this in the supernatural genre and he proved that with 1980's The Fog. The Ward is a mediocre movie that leaves horror fans wanting more out of their experience. I think John Carpenter can deliver a better film if he really puts his mind to it. This was disappointing affair, and I expected something much better than this. This is just a case of being an undeveloped horror picture that could have been fun and entertaining. However, Carpenter doesn't deliver and it just doesn't stand out among his other works. This film makes Ghosts of Mars look great by comparison and if I had to pick one of the worst that John Carpenter has made, it would have to be this one. As a horror film, it is void of effective scares that can leave you on the edge of your seat till the final frame. The Ward, given a rewrite or two could have worked well enough and be a fine return to form of Carpenter's early days. But I'm still waiting on him to create a more refined picture that will bring back the quality that his fans expect from such a unique talent.
½
Oh dear you have to expect more from John Carpenter than this. A straight to DVD horror that has a very low budget and more of a 12A rating feel to it. Not scary, a few jumpy scenes and that's it. Well at least it has Amber Heard in it, to make it more interesting!
The Ward Quotes
There are no approved quotes yet for this movie.