The Kid Who Would Be King
(2019)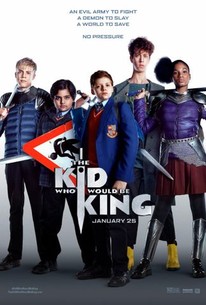 TOMATOMETER
AUDIENCE SCORE
Critic Consensus: The Kid Who Would Be King recalls classic all-ages adventures -- and repurposes a timeless legend -- for a thoroughly enjoyable new addition to the family movie canon.
The Kid Who Would Be King Videos
The Kid Who Would Be King Photos
Movie Info
Old school magic meets the modern world in the epic adventure THE KID WHO WOULD BE KING. Alex (Ashbourne Serkis) thinks he's just another nobody, until he stumbles upon the mythical Sword in the Stone, Excalibur. Now, he must unite his friends and enemies into a band of knights and, together with the legendary wizard Merlin (Patrick Stewart), take on the wicked enchantress Morgana (Rebecca Ferguson). With the future at stake, Alex must become the great leader he never dreamed he could be.
News & Interviews for The Kid Who Would Be King
Critic Reviews for The Kid Who Would Be King
Audience Reviews for The Kid Who Would Be King
A bit of fun as a beleaguered and picked on kid finds the sword of Arthur and must gather his friends, and enemies, to fight the evil witch from the bowels of the earth. Sound melodramatic? Well, your kid wouldn't have it any other way. I was surprised that I enjoyed this as much as I did.
Kevin M. Williams
Super Reviewer
½
The Kid Who Would Be King is an off-beat childrenâ(TM)s adventure film from the director (Joe Cornish) of cult favorite, Attack the Block. Set in modern-day Brexit era Britain (and fully acknowledging the nightmare that is the modern western world) a working-class kid finds Excalibur and discovers that he just might be the Once and Future King. Merlin shows up, burning demons run amok, and friends and enemies alike embrace the code of Chivalry. King tonally resembles live-action childrenâ(TM)s fare from a less cynical era, the late 90â(TM)s specifically. The protagonist is played with earnest aplomb by Louis Ashbourne Serkis (the son of MoCap god Andy Serkis). Rebecca Ferguson chews the scenery as an insidious tree demon version of Morgana. But Merlin steals the show, as he should. Older Merlin is played by Patrick Stewart but the standout is Angus Imrie as a young, neurotic and out of place wizard who just really makes this picture take off. The action, score, and visuals are more than adequate and it has the earnest punch a movie like this needs. It also contains visual references to 1981â(TM)s Excalibur, which will satisfy aging nerds such as myself. The fact that King bombed horribly is disheartening, but there is a fair possibility that it could become a cult hit in the way Attack the Block did. Either way itâ(TM)s a good choice for parents seeking to entertain their kids with something that has a strong moral and emotional center.
Joshua Sheetz
Super Reviewer
The classic stories about King Arthur and The Sword in the Stone have been told over and over again through many iterations. Personally, I've grown tired of this tale and had no interest in another retelling or reimagining. That being said, when I first glanced at the promotional material for The Kid Who Would Be King, it felt like a fresh take that would playfully change the age-old premise. With the talent involved in front of and behind the camera, I very quickly became excited. While this material may not interest everyone, if youâ(TM)re a fan of a good adventure or just plain silly fun, I think you may get a kick out of this film as I did. While itâ(TM)s not exactly wholly original, hereâ(TM)s why The Kid Who Would Be King deserves your attention (in theatres or not). I was instantly more intrigued when seeing that it was going to be directed by Joe Cornish. His previous film in Attack the Block was one of my favourite films of 2011, simply due to the fact that it felt so original and fun. The Kid Who Would Be King probably wonâ(TM)t become a film that I admire as much as that one, but it was still a very fun time at the movies. Following Alex as heâ(TM)s bullied to the point of falling into a construction yard, he stumbles across a sword thatâ(TM)s sticking out of a stone. Being able to pull it out, he takes it home with him and begins to believe he is the new heir to the sword and that the classic stories are actually true. This is a very meta story that works very well, due to the fantastic portrayal of the lead characters. From brief appearances by Rebecca Ferguson and Patrick Stewart to a breakout role for Dean Chaumoo, the most notable is easily Louis Ashbourne Serkis in the leading role. While this film is littered with solid performances, his is the one that stands above the rest. I canâ(TM)t wait to see his career evolve. If itâ(TM)s anything like his fatherâ(TM)s is (Andy Serkis) then he will be a household name in the years to come. From his comic timing to his devotion to dramatic moments, I found myself sucked in by his performance. He sold this character in ways that I wasnâ(TM)t expecting, which is saying a lot for such a young actor. This is a very tight story and the plot story beats are quite predictable, which is easily the biggest flaw I found with this film as a whole. I found myself predicting the arcs of nearly every character, but it was done so well that I just shrugged that aspect off and was able to forgive that for the most part. The sense of adventure here is endless and although there is a beginning, middle, and end for this particular story, it feels like an open world that has the potential for further storytelling. For these little details, I was completely invested. There was also a point throughout this film where I felt the movie coming to a very anti-climactic close but was immediately followed by another 20-minute sequence, finishing off the character arcs that were needed. The conclusion of this film saved it from being a throwaway film in my opinion. In the end, The Kid Who Would Be King probably wonâ(TM)t be known as one of 2019â(TM)s best films, but of the few Iâ(TM)ve seen so far, it ranks right up there. This was a joy to watch. It was almost as if Joe Cornish decided to take the best elements of classic adult adventure films (ie. Lord of the Rings or Harry Potter) and tamed them down for all ages to enjoy. I had a great time watching this movie and I think many viewers will be able to enjoy it as well. Definitely check this one out.
The Kid Who Would Be King Quotes
There are no approved quotes yet for this movie.