Species III
(2004)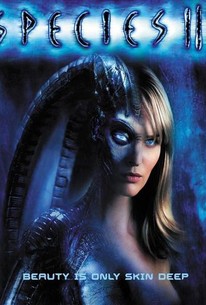 Movie Info
This direct-to-cable sequel in the Species film series follows the next legacy of the sexually frustrated alien species as the daughter of Eve (Natasha Henstridge) is born into an uncaring human world. Newcomer Sunny Mabrey plays Sara, the first genetically perfect specimen of her species, who is kidnapped upon birth by a professor who has his own selfish reasoning to keep her alive. Hounded by the army and other human-alien DNA hybrids bent on breeding, the hunt is on for the professor and Sara to create another perfect offspring any way they can. Premiering on the Sci-Fi channel in November of 2004, the erotic sci-fi thriller came to DVD a month later in a director's cut supervised by the director, Brad Turner, a TV veteran whose show credits include Andromeda, Stargate SG-1, and the '90s revamp of Outer Limits.
News & Interviews for Species III
Critic Reviews for Species III
Audience Reviews for Species III
½
Don't expect things to make sense anywhere in this waste-of-time. Only watch if you waiting for the glue on your model airplane to dry.
Kevin M. Williams
Super Reviewer
½
Third film in this series is a sign that the franchise should have ended after the second flick. However that wasn't to be. Here we have a violent film with little emphasis on story, or effective sci fi horror elements that made the first film a good popcorn flick. This film has little interesting elements to make this film a good, entertaining flick. Species III is a flawed picture that uses the same old tired ideas that don't work. This third entry suffers and you can easily see why. Usually in a series, by the third entry, filmmakers are struggling with ideas to try and make their film interesting, exciting and fun. However, this film plays out like a tired out rehash of the first two films, with no new refreshing ideas. The film is pointless and is a film that lacks an effective story to really make it a watchable film. The film may deliver on gore content, but has really bad special effects at the same time, not to mention it lacks any depth and substance, which could have made the film much better. Unfortunately, The underdeveloped script makes this film unwatchable, and not a worthy entry in the series. The film will most likely disappoint die-hard fans of the original film, and you may ask yourself if it's actually worth your time. The answer is no, this film uses old ideas, that are tiresome to see this time around. Species III is a bad film, and really isn't worth your time.
A very average at best 3rd installment. Natasha Henstridge only has a small scene at the start leading the story straight on from the 2nd film. Basically another pretty alien babe wants an equal created for her, while hybrids are after a DNA cure from her. It's not bad for a TV movie, not as good as the first two though.
Species III Quotes
There are no approved quotes yet for this movie.