Serial Mom
(1994)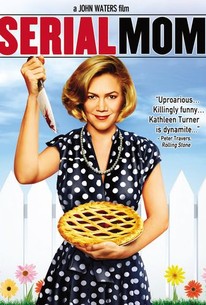 Movie Info
Writer/director John Waters offers an outrageous satire of suburban life--and the American fame industry for merchandizing mass murderers--with this hilarious black comedy about a Baltimore woman who's the ideal wife and mother, except for her habit of killing people who annoy her!
Critic Reviews for Serial Mom
Audience Reviews for Serial Mom
Trashy fun. Seen it many times over the years.
Nicki Marie
Super Reviewer
½
A cheerful, seemingly perfect suburban housewife in the vein of June Cleaver is secretly a viciously vengeful killer in this delightful romp from John Waters. Finding a nice middle ground between subversion and the dignified mainstream (with a touch of camp), this is an alternate take on some of the same territory mined by Oliver Stone's Natural Born Killers that same year, though done far less seriously, and not chaotically experimental. It is blatantly a satire, and yes, the acting is that way on purpose. I guess some people just weren't in on the joke, hence why this seems to generate a lot of mixed opinions. I'll admit this isn't the greatest movie, but it is fun. You have to be in the right frame of mind for Waters's style and shtick, but I think it works well with this type of ludicrously over the top subject matter. It's so silly and ridiculous, but that's what makes it fun. This is a woman who will murder someone just for making a fashion faux pas or insulting one of her kids, yet she maintains a facade of being the most wholesome mom ever. The performances are great. Kathleen Turner steals the show in the lead role, and this is easily one of her best performances, if not the absolute best. She really gets the tone, character, and ideas Waters was pushing for. Though not quite as good or memorable, Sam Waterston, Ricki Lake, and Matthew Lillard are all pretty decent as the killer mom's husband and kids respectfully. We also get appearance from Waters regulars like Mink Stole and Patricia Hearst, as well as cameos from Suzanne Somers and the band L7 (performing under the name Camel Lips. All in all, this is a fairly decent piece of work. It is goofy, but if you can't understand that it is tongue in cheek by design, then I can't help you.
Chris Weber
Super Reviewer
½
My favourite John Waters movie so far! This is one of those horror movies that are so outrageous they're hilarious, or in other words a black comedy (which is slightly more scary than funny). I highly recommend this movie.
Serial Mom Quotes
There are no approved quotes yet for this movie.