Saving Silverman
(2001)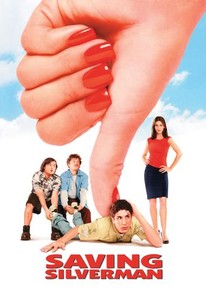 TOMATOMETER
AUDIENCE SCORE
Critic Consensus: Dragged down by a plot lacking any sense of logic and obnoxious, unsympathetic characters, this comedy is more crude and mean-spirited than funny.
Movie Info
Darren Silverman, Wayne Le Fessier and J.D. McNugent have been best friends since the fifth grade. From grade school (when they were all picked on), to high school (when Wayne played on the football squad, J.D. was the team's mascot and Darren was its star cheerleader), to today (rocking side by side in "Diamonds in the Rough", their Neil Diamond cover band), these guys have always stuck together. Now, enter Judith, a great-looking but cold-hearted and manipulative psychiatrist who digs her claws into sweet-natured Darren, snatches him from the friendship and even breaks up the band. First, J.D. and Wayne attempt to distract Darren by reuniting him with his high school love, Sandy, who in only a short time plans to take her religious vows and become a nun. But the stranglehold Judith has on Darren is too strong. In a desperate and hilarious last-ditch attempt to save their friend from Judith's grip - and after receiving some ill-advised help from their take-no-prisoners high school football coach - Wayne and J.D. kidnap Judith and fake her death, leaving Darren free to fall for Sandy. Judith, however, doesn't stay down for long. Demonstrating cunning and kick-ass karate moves that leave her captors in the dust, Judith escapes and pulls Darren back under her control. But just before the contentious couple takes their wedding vows, a hero arrives in an unexpected form - Neil Diamond, who is recruited by J.D. and Wayne to help save the day.
Critic Reviews for Saving Silverman
Audience Reviews for Saving Silverman
½
J.D.: Isn't one-and-only supposed to be, like, one? And only?  "They swore nothing could come between them. Then she came along." Saving Silverman is a movie so stupid, so ridiculous, so weird, so fucked up; that I actually ended up liking it a little. Not a lot, but a little, which is a lot more than I thought I would. When I say this movie is stupid, I mean it is one of the stupidest movies I have ever seen. It's so stupid, you have to give it props. I am of the belief that Dennis Dugan and company tried, with Saving Silverman, to make most moronic movie of all-time. So their attempt was a success. It may not merit any applause, nor should it mean that you should watch it. In fact I wouldn't wish this movie on anyone. It takes a special type of person to take any satisfaction in Saving Silverman at all. And I guess I'm one of them. I would talk about the plot here, but all you'd be able to read is plot gibberish. The film is very episodic and extremely wacky and bizarre. The cast do what they can to make it all the more ridiculous and damn if they didn't succeed. Jack Black, Steve Zahn, Jason Biggs, Amanda Peet, and Ermey all turn in the most ridiculous performances of their lives. It's a good thing in this sense because it is what the film merited.  I'm not going to go on any longer. I feel ashamed for saying I actually enjoyed Saving Silverman a little bit. Still I can't allow myself to give it more than the rating I have because it really is a shitty movie. It's just one of those movies that is so shitty, it's almost good.
Melvin White
Super Reviewer
Zany ensues when a nice guy takes up with one scheming, manipulative itch ... well, almost zany, as halfway through the movie I realized that I hadn't laughed once, a comedy deathknell. The actors are personable enough, the situations seems ripe for jest, and yet: blah.
Kevin M. Williams
Super Reviewer
½
Pathetic characters, dumb plot without logic and silly scenes, this "romantic" comedy presents a crude and weak script that don't take a lot of laughs. Rotten.
Lucas Martins
Super Reviewer
Saving Silverman Quotes
There are no approved quotes yet for this movie.