Saturday Night
(2010)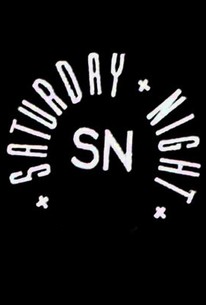 AUDIENCE SCORE
Critic Consensus: No consensus yet.
Movie Info
In September 2008, actor James Franco was a guest host on the popular television comedy series Saturday Night Live. Franco was fascinated by the process in which a 90-minute broadcast was pulled together from scratch, and he approached SNL producer Lorne Michaels with the idea of making a behind-the-scenes documentary following the production of a typical episode, from first meeting with the writers to the final live broadcast. Michaels gave his permission, and in Saturday Night Franco and a small camera crew are on hand as John Malkovich joins the cast for the December 6, 2008 broadcast. Saturday Night features interviews with members of the cast, writing staff, and production team as well as a fly-on-the-wall view as an episode of Saturday Night Live takes shape; the writers pitch ideas to Michaels and Malkovich, the cast works to flesh out the sketches and make them work in front of an audience, and the crew tries to make it all look good on a tight schedule with an immovable deadline. James Franco's first feature film as a director, Saturday Night received its world premiere at the 2010 South by Southwest Film Festival.
Critic Reviews for Saturday Night
All Critics (1) | Fresh (1) | Rotten (0)
Franco's film also functions as a drama about the tension that exists when creativity is scheduled for a deadline; the laughs that are in "Saturday Night" are mostly incidental from the sketches being prepared.
Audience Reviews for Saturday Night
½
James Franco follows the making of an SNL episode in 2008. He and his crew observe when John Malkovich hosted for the third time. This doc covers the whole week from writing to rehearsing to the live taping. Quite frankly Franco is self-serving in joking around with Bill Hader and doesn't delve very deep into what truly makes the show. It feels like a student film. It takes you behind the scenes, but does not look to the history of Saturday Night Live.
Byron Brubaker
Super Reviewer
If you have previously read the book "Live From New York: An Uncensored History of Saturday Night Live" you are not going to get anything new out of watching this film. A lot of what is in that book is much more fascinating and insightful than what student filmmaker James Franco has to show us. More than that, this is a very amateur film that shows us the process, but not what makes it fun for the writers and performers on the show. Actually, there's this bittersweet quality to the entire film that stresses how difficult the show is to put together, and what it takes to work at SNL, rather than the zaniness of comedic creativity. More often than not we watch the mechanics of a joke, rather than its execution, and the behind the scenes quality of the film makes it seem very voyeuristic, in a bad way. That and James Franco pandering to the camera, letting himself be interviewed alongside show creator and executive producer Lorne Michaels was a little too self-aggrandizing for my taste. While this may be a treat for those unaware of the mechanics of the show, it probably isn't the roller coaster of fun many are expecting.
Spencer S.
Super Reviewer
Saturday Night Quotes
There are no approved quotes yet for this movie.