Nutty Professor II: The Klumps
(2000)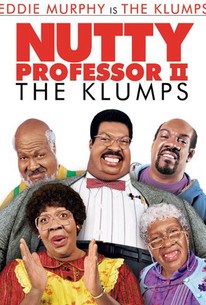 TOMATOMETER
AUDIENCE SCORE
Critic Consensus: While Eddie Murphy is still hilarious as the entire Klump family, the movie falls apart because of uneven pacing, a poor script, and skits that rely on being gross rather than funny.
Nutty Professor II: The Klumps Videos
Nutty Professor II: The Klumps Photos
Movie Info
Overweight scientific genius Sherman Klump and his extended family are back in this sequel to the 1996 comedy smash The Nutty Professor. Sherman (played once again by Eddie Murphy) has come up with a discovery that ought to make him a multimillionaire: a youth serum that turns back the user's body clock. Sherman has also found time for a social life and has fallen in love with Denise Gains (Janet Jackson), a brilliant woman involved in DNA research. Sherman and Denise are engaged, but Sherman is still troubled by Buddy Love, the dark side of his personality that he wants to purge from his psyche forever. He persuades Denise to help him by splicing Buddy out of his DNA structure, but the experiment doesn't go as planned: instead of destroying Buddy, Sherman and Denise free him, and Buddy's first order of business is to get his hands on Sherman's youth serum, which Sherman has hidden at his family's house. In addition to Klump and Love, Murphy also plays Mama, Papa, Grandma, and nephew Ernie Klump, thanks to the makeup magic of Rick Baker.
News & Interviews for Nutty Professor II: The Klumps
Critic Reviews for Nutty Professor II: The Klumps
Audience Reviews for Nutty Professor II: The Klumps
Sure it had some good laughs, but it was just more of the same ol same.
Eric Alvarez
Super Reviewer
½
I found that this sequel to the Nutty Professor was lacking considering that the first film was a lot of fun, funny and entertaining. The film is decent, but is also fairly lazy compared to the first one. They tried too hard at outdoing the first film, and they ended up with another sub-par sequel. This is very often the case with most sequels. Filmmakers try to outdo the first, but they fail to capture key elements that made the first film so special. The Nutty Professor II is a decent enough comedy, but it really doesn't do anything new or exciting with the material. Eddie Murphy is good here, however I feel that he's past his prime, and he should've retired after this film was made. The guy isn't what he used to be. The film funny, but the humor is tiresome at times, and you see that the screenwriters tried too hard at outdoing the first film. This sequel still manages to make you laugh, but with less effective results. I enjoyed the first film a lot more and despite the fact that this is somewhat decent, Nutty Professor II could have been much better. The film has laughs here and there, and for the moist part is decent enough to be entertaining, but as yet another sequel to a smash comedy, this film fails to be as funny as the first film. Nutty Professor II is worth watching, but it's nowhere near the first film, which was very funny, original and brought on big laughs.
Its worth a viewing because its fun to see Murphy playing the Klump family again making more jokes, ultimately the script isnt as good as the original and Murphy does sell out on this one but godamn it. It still made me laugh. Worth a viewing though for sure
Directors Cat
Super Reviewer
Nutty Professor II: The Klumps Quotes
There are no approved quotes yet for this movie.