My Big Fat Greek Wedding 2
(2016)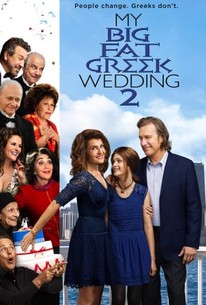 TOMATOMETER
AUDIENCE SCORE
Critic Consensus: My Big Fat Greek Wedding 2 is as sweet and harmless as the original, but its collection of sitcom gags and stereotypes never coalesces into anything resembling a story with a purpose.
My Big Fat Greek Wedding 2 Videos
My Big Fat Greek Wedding 2 Photos
Movie Info
Gold Circle Entertainment and HBO present a Playtone production of My Big Fat Greek Wedding 2, the long-awaited follow-up to the highest-grossing romantic comedy of all time. Written by Academy Award (R) nominee Nia Vardalos, who stars alongside the entire returning cast of favorites, the film reveals a Portokalos family secret that will bring the beloved characters back together for an even bigger and Greeker wedding. Kirk Jones (Nanny McPhee, Waking Ned Devine) directs the next chapter of the film that will be once again produced by Rita Wilson and Playtone partners Tom Hanks and Gary Goetzman. Paul Brooks and Steven Shareshian return to executive produce alongside Vardalos and Scott Niemeyer. Universal Pictures will distribute the comedy domestically and in select international territories.
News & Interviews for My Big Fat Greek Wedding 2
Critic Reviews for My Big Fat Greek Wedding 2
Audience Reviews for My Big Fat Greek Wedding 2
½
This was a pleasant enough film with a few mild chuckles, but if the Greeks invented comedy, there's little evidence here. There seems to be a reason the Greek masters didn't write sequels frequently.
Christian C
Super Reviewer
½
See more reviews like this at chrisbreviews.blogspot.com I feel like this movie should never have been made. The first movie was a standalone classic, but of course the movie industry had to give the movie another go. They struggled to find another wedding to put on to the extent that they gave an existing married couple another wedding. I'm not saying this movie is bad, but it's just unnecessary. One thing I can say about this romantic comedy is that it had a lot of beautiful moments. Moments where you cry, laugh, or just reminisce at. This wasn't an Oscar winning film or an action blockbuster, but it was a beautiful story about family and its importance. The cast isn't very well known because there was one main criteria to be in this movie; to be Greek. And there aren't a lot of well-known Greek actors, but here they are none the less. Nia Vardalos, John Corbett, Elena Kampouris, Rita Wilson, Lainie Kazan, Michael Constantine, John Stamos, Andrea Martin, and Alex Wolff. There are a lot of different sub plots and character arcs in this film for lots of different characters, but on the whole they were balanced fairly well. I've always particularly enjoyed Lainie Kazan and Michael Constantine's performances as Maria and Gus Portokalos, the classic old married couple with no shortage of comedic moments. No Oscars here, but the primary purpose was to entertain, so that's ok I guess. This film is mainly comedy and family, and it certainly entertained me. I really enjoyed this film's comedic value. The setting is also hilarious, this massive Greek family in a proud American suburb, and this is explored more so than in the first film. The themes were many and meaningful, including acceptance, family, adolescence, independence, happiness, love, tradition, and respect. This film has something for everyone. The script wasn't amazing but had, as I've said, a lot of funny moments. Even if you're not a rom com fan, I'm sure you will enjoy something in this movie. The potential for sequels was left open-ended, with a family member coming out as gay and Paris developing a love interest for a Greek boy from her school, any of these could be the subject for another big fat Greek wedding. Actress Nia Vardalos has come up with an idea and discussions are in the works. I'm going to sound extremely hypocritical here but I'm interested to see how Paris's story ends... The tone in this movie was very lighthearted, but serious where it needed to be. I liked that. No cliches here either. The running time was perfect for this film. The previous instalment, the original, was better in every way in my opinion, but this did just fine as far as sequels go. And no, you don't need to have seen the original to understand this one, you pick up the context pretty quickly. To improve, the storyline could've been better, and less exactly-like-the-original. ALOT is identical in this one, from the formatting to lines to the general plot. Director Jones let nostalgia consume this film a little more than it should have. Some of the sub plots were unnecessary (grandfather in bathtub) while others should've received more attention (family member coming out)! This is a very easy trap to fall into. Overall, I enjoyed this movie a lot. It had some beautifully emotional moments and fantastic themes at its core with some great nostalgic moments from the first film. But this doesn't escape the fact that this film shouldn't exist and therefore I shouldn't be writing this review. Note to movie makers; leave great individual movies ALONE. Rewatchability level is MODERATE TO HIGH due to its comic relief.
Christopher Breen
Super Reviewer
Bigger, fatter, stronger...no. After waiting 15 years, Greece isn't the word anymore for the sitcom-y schtick on display with another round of Wedding bell blues. It's confounding to think Nia Vardalos, creator and star of this sequel and its forebear, begged CBS to axe My Big Fat Greek Life, the 2003 small screen continuation of her hit big screen comedy. Granted, TV execs and the production team fought over the series' direction all season long until they turned a sure-fire smash into a 7-episode burnout. But My Big Fat Greek Wedding, a pleasant surprise lucky enough to sustain one movie but certainly not two let alone a sitcom, charmed it's way into people's hearts because it IS a big-screen sitcom. The jokes lack a laugh-track but the characters and situations smack of canned laughter. Just like with Zoolander 2 just months ago, My Big Fat Greek Wedding 2 arrives late to a party it really wasn't invited to. In this PG-13-rated comedy, a Portokalos family secret brings the beloved characters (Vardalos, Corbett, et al) back together for an even bigger and Greeker wedding. Over-the-top, on-the-nose, and made-for-TV, the overall production makes nice...as in it earns praise meant for a child handing you a drawing: "that's nice, honey." Harmless fun, these continued goings-on examine over-familiar comedy themes and situations recycled from countless shows and movies, but all involved - Vardalos especially - works hard for your approval. Unwanted? Yes. Unnecessary? Well, mostly. If My Big Fat Greek Wedding 3 rears its unneeded head, however, all courtesy and niceties will go the way of Pompeii. Bottom line: It's All Greek to Meh
My Big Fat Greek Wedding 2 Quotes
There are no approved quotes yet for this movie.