Mother's Day
(2016)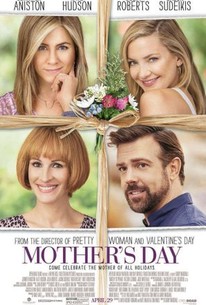 TOMATOMETER
AUDIENCE SCORE
Critic Consensus: Arguably well-intended yet thoroughly misguided, Mother's Day is the cinematic equivalent of a last-minute gift that only underscores its embarrassing lack of effort.
Movie Info
"Mother's Day" is the latest star studded ensemble comedy from director Garry Marshall ("Pretty Woman," "Valentine's Day"). Bringing together Jennifer Aniston, Kate Hudson and Julia Roberts along with Jason Sudeikis, it's a celebration of mothers everywhere. This big-hearted comedy invites us all to enjoy the laughter, tears and love as three generations come together in the week leading up to Mother's Day.
News & Interviews for Mother's Day
Critic Reviews for Mother's Day
Audience Reviews for Mother's Day
This was not as bad as I thought it would be. Comfortable predictable yet still enjoyable to watch.
Ian Walker
Super Reviewer
I heard horrible reviews for this, but honestly it's not that bad. When you go into a movie called Mothers Day, released Mother's Day week, you really shouldn't be too shocked about what you get. I hate cloying in a movie, and luckily this one only falls into that a few times. The racism from the older parents towards their daughters Indian husband had me cringing more really. It's not a movie I will be watching over and over. It is pretty disposable as movies go with the expected amount of predictability. But for a movie to take my mother to on Mother's Day, which she very much enjoyed, I give it three stars.
Nicki Marie
Super Reviewer
½
A mother's ruin of an ensemble comedy, this cash-in on the most popular of greeting card holidays becomes a day that will live in infamy thanks to its Raspberry-worthy script and ability to kick A-List movie stars down the ladder toward TV Movie-of-the-Week-dom. Having pushed Valentine's Day and New Year's Eve to undeserved box office heights, audiences get just desserts in the form of Mother's Day, a comedy that overall makes a great argument for remaining childless if only because you wouldn't be subjected to the characters otherwise. Their plotlines - one follows Jennifer Aniston as a divorced mother having to share her kids with her ex-husband's young new wife, another details Kate Hudson's calamity when her bigoted parents meet her Indian husband, another sees Jason Sudekis' grieving widower trying to move on with life, and the last presents married-to-her-career Julia Roberts as a home shopping network pitchwoman - eventually intersect, but this coming together is more like a collision of bad taste. All of the lines, jokes, and hackneyed situations seem culled from a sitcom...not a good one either. In this PG-13-rated dramedy, three generations come together in the week leading up to Mother's Day. Beset with a clown wig apparently intended for Moe Howard, Julia Roberts looked better in Dying Young, lying in wait for a painful and slow early death. Fresh some giving a spirited dramatic turn in Race, Sudekis looks and sounds about as much as an ex-Marine D.I. as Mickey Rooney does a Japanese man in Breakfast at Tiffany's. Director Garry Marshall once gave us Pretty Woman but now gives us Pretty Awful, an embarrassing coming together of marquee names apparently about to slide down into oblivion. As with all Marshall flicks, Héctor Elizondo predictably shows up to give sage advice, but more valuable words of wisdom would have been in telling moviegoers to "run away fast and far from this garbage." Bottom line: Tough Mutter
Mother's Day Quotes
There are no approved quotes yet for this movie.