Mid90s
(2018)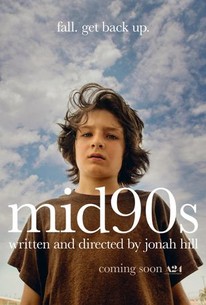 TOMATOMETER
AUDIENCE SCORE
Critic Consensus: Mid90s tells a clear-eyed yet nostalgic coming-of-age tale that might mark the start of an auspicious new career for debuting writer-director Jonah Hill.
Movie Info
Mid90s follows Stevie, a thirteen-year-old in 90s-era LA who spends his summer navigating between his troubled home life and a group of new friends that he meets at a Motor Avenue skate shop.
News & Interviews for Mid90s
Critic Reviews for Mid90s
Audience Reviews for Mid90s
The interesting thing with this movie is that it's up to you to get something out of it. It doesn't really preach any lessons, it just is. Yeah there are some moments where the boys have some very real conversations, but these feel genuine to them. At it's core it's just a blunt and raw look at a people and a time, that being young skaters in the mid-90s, and honestly it kind of nails it. It's not always pleasant, in fact it's often painfully uncomfortable, but that's genuine to the experience. I guess it's a coming of age story, but I'm not even really sure if the character really comes of age by the end. Landmark moments that would have been romanticized in other films are shown unfiltered here. These people existed, and to a degree these people still do exist. It's not always pleasant, but it's raw and kind of beautiful.
Michael Malan
Super Reviewer
This film is like a poor man's Wolf of Wall Street, both in that it is not as great of a film, but also is a smaller scale film about literally poorer characters. Jonah Hill does a good job keeping the feel of film very casual, and the characters, through all of their flaws, end up being likeable. The story feels like it just spins without cause until it comes to stop, but the ride is pretty fun nonetheless.
Sanjay Rema
Super Reviewer
½
Jonah Hill's directing debut is a small slice of 90s cinema that's heavy on sense of time and place, light on plot, but filled with youthful authenticity. We follow a young kid (10? 12?) as he ingratiates himself with a group of older teen skaters. He wants to emulate these cool kids and dedicates himself to being a skateboarder. There are some intra-group conflicts and jealousies that play out as our protagonist becomes part of the gang. He gets exposed to smoking, drinking, and girls at house parties. There is one sequence at a party where a teen girl (15? 16?) takes our young hero into a bedroom to deflower him, and I instantly became anxious and needed to know the ages of the characters onscreen (it's never verified). Our main character also happens to be one of the more boring people in the film, almost by design. He's a blank page for the audience to project onto, and he's trying so hard at such a formative age to emulate the older teens that it makes sense to leave him less defined. Hill hired professional skateboarders and taught them acting, and they act like professional skateboarders. In fairness, they act like recognizable teenagers, and Hill's natural ear for dialogue rings true for this time of life. The movie takes a few turns into After School Special territory but doesn't seem to deal with the consequences or resolutions of those dramatic events, which makes the film feel both more realistic and less fulfilling. Our hero takes a lot of injuries, some of them bleeding-head related, but nothing seems to come from them except the growing admiration of his peers. The home life storyline is worrisome and vague. Our protagonist has a physically abusive older brother (Lucas Hedges) who resents him and a single mother (Katherine Waterston) who seems irresponsible in not doing something about her youngest son being gone well into the morning hours. Even our protagonist seems to have penchant for self-harm, something that will presumably lead to problems down the line. In the meantime, mid90s is a pleasant and mostly entertaining, seemingly autobiographical experience. It gets by on enough for a watch. Nate's Grade: B
Nate Zoebl
Super Reviewer
Mid90s Quotes
There are no approved quotes yet for this movie.