Loverboy
(2006)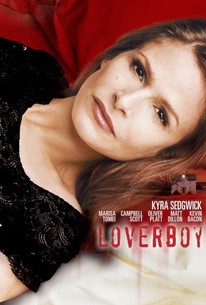 TOMATOMETER
AUDIENCE SCORE
Critic Consensus: The transition from novel to film is awkwardly executed, and Sedgwick's character, despite the attempts to make her sympathetic, merely comes across as creepy and crazy.
Movie Info
A mother once neglected as child but possessed of a heart overflowing with love grows increasingly despondent as her beloved child begins to claim his independence in director Kevin Bacon's adaptation of Victoria Redel's best-selling novel. If loving too much were a crime, well-meaning but overbearing mother Emily (Kyra Sedgwick) would be spending life behind bars with no hope of parole. When Emily was a child, her parents were deeply in love with one another but tragically indifferent to their affection-starved daughter. Now a grown adult with a deep-rooted desire to bear a child, Emily goes to desperate lengths to conceive before eventually giving birth to an exceptionally gifted boy whom she names Paul. Emily's devotion to Paul burns brighter than a thousand suns as she creates a wondrous world of books, music, art, and games to share with her growing child, but her ever more desperate attempts to preserve the purity of their relationship reach a frantic fever pitch as a kindhearted local man opens his life to the pair and Paul prepares for his first year of school.
News & Interviews for Loverboy
Critic Reviews for Loverboy
Audience Reviews for Loverboy
A surprisingly well-made drama with a stunning ending.
Andrew Fillmore
Super Reviewer
On the one hand, I hate Emily for being so selfish (a characteristic possibly passed down by her parents). On the other hand, the way she was portrayed by K. Sedg makes me feel that I'm being too judgemental. One question I have is how did the Emily of the 70s (the Life On Mars singing Emily) turn into the nutbag Emily of present day? She seemed so normal as a child. Sandra Bullock gave an incredible depth to her character who made only cameo appearances. For the funniest performance given a background extra EVER, skip to the part where Paul/Loverboy meets the school children for the first time (watch the boy third from the left). Hilarious.
Robert Fearon
Super Reviewer
Loverboy Quotes
There are no approved quotes yet for this movie.