Ji jie hao (Assembly)
(2007)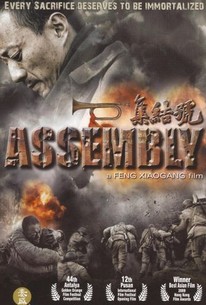 AUDIENCE SCORE
Critic Consensus: No consensus yet.
Ji jie hao (Assembly) Photos
Movie Info
A veteran of China's Civil War rails against modern bureaucracy in hopes of finally receiving recognition for his bravery and to honor the memory of his fallen comrades in director Feng Xiaogang's big-budget war drama. The year was 1948, and the fighting between the Nationalist KMT and the Communist PLA is raging. In a small, northeast China town, Captain Gu Zidi (Zhang Hanyu) leads the Ninth Company in a fierce skirmish against the a rapidly weakening KMT unit. His blood boiling over the death of a political officer in battle, Captain Gu vengefully kills a KMT soldier despite the fact that the leader and his unit have just surrendered. Imprisoned for a few short days as a sort-of token gesture, Captain Gu makes the acquaintance of imprisoned political officer Wang Juncun (Yuan Wenkang, who has just been accused of cowardice and will likely receive the death penalty. Later, when Captain Gu is ordered to take the Ninth out on a dangerous mission, he requests that Wang join the brigade in battle. Unfortunately for the majority of the squad, the KMT forces are much more substantial this time around, and though a few men claim to have heard the signal for retreat, Captain Gu commands them to stand their ground: In the aftermath of the slaughter, Captain Gu is the last man standing. Still, the valiant soldier stages a remarkable recovery, and goes on to save the life of North Korean Er Dou (Deng Chao) during a battle against the Americans and South Koreans. A few years later, Captain Gu enlists the aid of Er Dou and Wang's widow in regaining his honor, and ensuring that his fellow soldiers didn't die in vain.
Critic Reviews for Ji jie hao (Assembly)
Audience Reviews for Ji jie hao (Assembly)
The captain of a squad who were wiped out defending a crucial position during the Chinese civil war suffers survivor's guilt and obsessively sets about trying to find their bodies and prove their heroic sacrifice. Assembly is very similar in both style and substance to Korean war film Brotherhood. It too centres around the discovery of fallen soldiers and representing their bravery in some brutally realistic battle sequences. It also shares the same strengths and witnesses of Je-kyu Kang's film in that it relies slightly too much on melodrama and manipulation for its characterisation despite the impressively epic scale of the surrounding violence. The battle scenes are very much from the Saving Private Ryan school, realistically recreating the horrors of war but the characters themselves get a little lost amidst all the flying masonry and body parts meaning that it's difficult to form any emotional connection to them, leaving the rest of the film lacking the context and resonance it really needed. Visually it is very impressive indeed however, making for a well performed and well intentioned film that's worth seeing for its sheer spectacle alone.
Xiaogang Feng's Assembly is to China as to what Saving Private Ryan is to America. I'm not saying that they are the same because they are quite different. I'm just saying that it is a nicely written popular war film in China. It is good everywhere else in the world too.
This movie comes in two parts. The first hour is an all out bloody war movie. The pace is rather quick and it is intense. It makes you wonder why the first hour isn't dragged out to make the entire film because it can be. Nonetheless, war movie fans will enjoy this half.
The second hour takes a huge turn and it becomes a historical war drama. Yes, it can be slow and boring for the fans of explosions, but the writing is what makes this second half as good as it is. The main character buildup for Gu Zidi in the beginning is more than enough to get you to follow him as the years pass, which eventually leads to an emotional and great conclusion.
The action scenes in the first half are fantastic. They are bloody, as they should be, and they come in bunches.
I can't say enough about how good Hanyu Zhang is at leading this picture. He literally carries this film on his shoulders. The supporting cast isn't that bad either.
Assembly will fool some into thinking that it is an all out war epic, when it truly isn't. The first half will entertain, while the second will bore those that can't come to appreciate a historical drama.
½
"Every sacrifice deserves to be immortalized." War feasts upon death. Its greedy appetite carries away many a life on the battlefield, and soldiers must be ready to die at any time. Yet all these sacrifices can be given meaning and reason with honor. A weathered witness of war's insatiable appetite, Guzidi, Captain of the Ninth Company, will struggle his entire life to return honor to his forty six men and their self-sacrifice. The year 1948 witnessed the launching of the Huaihai Campaign during the Chinese Civil War. In one of Chinese history's deadliest battles, thousands from the People's Liberation Army (PLA) and the Nationalist Army (KMT) fell in the battle that took place between Xuzhou and Bengdu. It was amid this bloody fight that Captain Guzidi led the Ninth Company infantry unit on a sniper mission. His orders were to fight the KMT Army until the retreat assembly call was sounded. Yet, after many long hours of painstaking resistance, Gu watched powerless as the ammunition ran out and the scant ranks of the Ninth Company grew sparser still. The men were falling one by one. On the brink of death, Lieutenant Jiao Dapeng, Gu's best partner, announced that he heard the call and asked Gu to retreat with the remaining soldiers. The dying man's words spread doubt within the remainder of the company, but Gu insisted that the bugle had not sounded and that they were to continue fighting at all costs. Not until later did Gu realize that all the neighboring troops had already left the field, and that his entire company had maybe died in vain because of his stubborn obedience. Blinded by anger and guilt, Gu marched straight into the enemy's trench. But his life was spared, and he had no choice but to shoulder the gargantuan weight of guilt and mystery that would burden the remainder of his life. A few days later, Gu woke up in a hospital. While among the KMT ranks, he had been wounded and captured by the PLA. He had lost his identity, and quickly learnt that without a survivor to vouch for them, the forty six men who had bravely sacrificed their lives under him had simply gone missing. Gu joined the infantry of the Liberation Army and painstakingly climbed up the lower rungs of the military ladder. Determined to prove the glorious death of his forty-six men, Gu embarks on a journey in search of those who hold the key to the mystery of the bugle call. Review Assembly refers to the call of the bugle to retreat and regroup, and this is the call that Captain Gu Zidi (Zhang Hanyu) and his 47 men of the 9th Company, 3rd Batallion, 139th Regiment, are keenly listening out for, as they go about their mission in ill-equipped fashion, holding fort on a strategic plain. Sent to the frontlines for war-crimes, Captain Gu and his men, while being the best at trench warfare, find themselves severely lacking in essentials - manpower, ammunition and heavy weaponry, as they go up against the marauding forces of the Nationalist army, with their relatively superior armour. However, their mantra is old school - only the bugle will signal their fall behind, and everything else means fulfilling their mission objectives at all costs. While all might seem lost, this provides the kind of tales of valour that comes out of these battles, something like 300's. Assembly honours the spirit of the unit, of their tales of bravery and unflinching under insurmountable odds. If you're looking for a war movie, then Assembly will not disappoint. For the first hour anyway. Told in three acts, the first act, all 60 minutes of it, is where the action takes place. The war sequences here aren't poetic in the veins of Terence Mallick's The Thin Red Line, but are more aligned with Steven Spielberg's Saving Private Ryan, with its gritty realism, strained colours, and bloody, gory violence. We're probably, in recent years, in tune with war movies that put us in the shoes of aggressors, and that is to follow an assault team. Very rarely are we put into trenches and be seen to be on the defensive like that of Iwo Jima, soaking up wave after wave of attacks. And that's where Assembly shines, in having four intense battle sequences, three of which were on the defensive scheme of warfare, and the other, while an assault, does seem more to be on the losing end rather than achieving a clear, decisive victory. If details are what you're after, then you probably can't go wrong with the single bolt weapon, primitive artillery and the sharing of tin helmets. In fact, you'll probably be wondering instead that the PLA at the time was really backward, given the world's military technological advancement in the West/Japan during the 40s. And given last year's double bill by Clint Eastwood in Flags of our Fathers and Iwo Jima, Assembly seems like both movies combined, in providing both an in-depth look at the battles fought, as well as taking time off to contemplate more serious issues in dramatic fashion. In the second and last acts which take up the remaining hour, we follow Captain Gu as he tries his darnedest best to get his company recognized for the contribution it made, no matter how minuscule it might seem compared to the helicopter view of achievements. These acts might bore those who came satisfied with the first half, but for those looking into a more intimate drama of one man's fight for his lost brothers, then this portion will likely appeal to you. Ultimately, Assembly is an ambitious film. It combines drama and action, and in both aspects, doesn't hold back in bringing about the best it probably could. Kudos go to actor Zhang Hanyu who plays Captain Gu, in what can be essentially a one man show, putting focus of his place in history and his solo fight against the system. And after watching this, you'll probably won't hesitate to watch another war movie coming out of China, if they meet the benchmark set by Feng Xiaogang. Recommended!
Lorenzo von Matterhorn
Super Reviewer
Ji jie hao (Assembly) Quotes
There are no approved quotes yet for this movie.