Jasper Jones
(2016)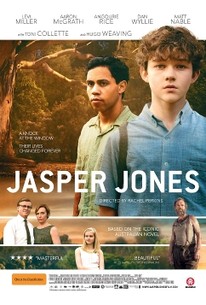 Movie Info
A riveting and moving Australian coming of age story about Charlie Bucktin, a bookish boy of 14. On the night that Jasper Jones, the town's mixed race outcast shows him the dead body of young Laura Wishheart, Charlie's life is changed forever. Entrusted with this secret and believing Jasper to be innocent, Charlie embarks on a dangerous journey to find the true killer. Set over the scorching summer holidays of 1968, Charlie defeats the local racists, faces the breakup of his parents and falls head over heels in love as he discovers what it means to be truly courageous.
Critic Reviews for Jasper Jones
Audience Reviews for Jasper Jones
Australian films have generally been unable to penetrate the cinema market and sadly this is another film that appears to have a lot to offer on the surface is actually a very mild story without depth. I have heard this book was critically well reviewed and like other adaptations, this struggles with capturing the themes of the novel. The film is more like a well made television movie, the characters are quite shallow and overlooked while we learn very little about the racial tensions consuming the town. Hugo Weaving and Toni Collette are great in very small roles and you can see the strength shine while the other actors fail to deliver on great roles. Perkins was not the right person for the director, her narrative pacing is off and limits the plot by not giving the audience the character moments they crave. Jasper Jones had a lot of potential but it just feels like it's missing a lot of backstory and motivations, I was eager to see this film but upon watching the film I could understand the issues many viewers had with the film. A great indie concept that doesn't deliver the film we craved. 16/01/2018.
Brendan O'Connor
Super Reviewer
Jasper Jones Quotes
There are no approved quotes yet for this movie.