Horrible Bosses
(2011)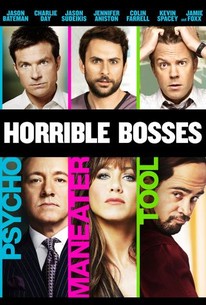 TOMATOMETER
AUDIENCE SCORE
Critic Consensus: It's nasty, uneven, and far from original, but thanks to a smartly assembled cast that makes the most of a solid premise, Horrible Bosses works.
Movie Info
For Nick (Jason Bateman), Kurt (Jason Sudeikis) and Dale (Charlie Day), the only thing that would make the daily grind more tolerable would be to grind their intolerable bosses (Kevin Spacey, Colin Farrell, Jennifer Aniston) into dust. Quitting is not an option, so, with the benefit of a few-too-many drinks and some dubious advice from a hustling ex-con (Jamie Foxx), the three friends devise a convoluted and seemingly foolproof plan to rid themselves of their respective employers... permanently. There's only one problem: even the best laid plans are only as foolproof as the brains behind them. -- (C) Warner Bros
News & Interviews for Horrible Bosses
Critic Reviews for Horrible Bosses
Audience Reviews for Horrible Bosses
½
Irritating to the point of almost unwatchable, with nothing remotely funny about following three unbearable retards amid stupid gags and so many homophobic/racist/sexist remarks - and Charlie Day is an awful actor who thinks that yelling in a high pitch makes him funny (it doesn't).
Carlos Magalhães
Super Reviewer
Make of the story what you will, "Horrible Bosses" is the type of movie that you will laugh with matter what. It has amazing laughs, loveable characters, surprising emotion, and a well-thought out scheme. As three average men are in the process of working for bosses representing the psycho, slut, and asshole categories, they complain each and every day of how bad their lives are and how much they wish they did not want their bosses in their lives. They come up with a plan with the help of a dangerous man at a nearby bar to kill their bosses in the most humane way possible. This film has funny written all the way down to it's core. There were a couple times where I forced myself to laugh because I thought it should have been a little funnier than it was, but I had a great time at the movies watching this. The cast is perfect and I have no regrets paying my way into this film. I highly recommend seeing this film, if your not looking for a brilliant story and you do not mind a few cliches, "Horrible Bosses" is a pretty great comedy!
Well what have we here...a film with an original plot AND Jennifer Aniston actually growing up and acting like a proper woman for once. Lets really add to this and point out that the whole cast, including the overrated Farrell, was actually very very good and the humour was pretty smart. So what we have here is a very good comedy with a large number of the cast being small name stars! I still can't believe it, the film started slow I gotta say, wasn't really getting into it, the guys are living crappy lives due their nasty chiefs so they all decide to bump them off...meh. Then on comes Aniston offering to fudge the living daylights outta Day and telling him to fudge her slutty mouth!!! what am I seeing!? Aniston actually using her sexy girl next door looks for some adult humour at last. I may as well point out that every scene with Day, Bateman and Sudeikis was an absolute pleasure to watch and extremely funny yet I've never even heard of any of them. Every scene and every line was just so chuckletastic you can't fail to smile, the comedy was sharp, witty and with some slapstick but not over the top and childish. The 'villains' of the piece were all fantastic too, Farrell, Aniston (in another 'Office Space' moment winner) and Spacey all showing great comic evilness, some of the best casting I've seen for a while. I really didn't hold much hope for this film to be honest, heard a lot but assumed it was all over the top hype, how could it be so good with that cast? so I was wrong. Pretty much a perfect little comedy of horrors that is simple yet original and doesn't get carried away with overblown sequences. The only thing that kept popping into my mind was how gay Day's character was. Who in their right mind wouldn't let Aniston have her wicked way like that?! she could blackmail me like that any day.
Phil Hubbs
Super Reviewer
Horrible Bosses Quotes
There are no approved quotes yet for this movie.