Hollywood Ending
(2002)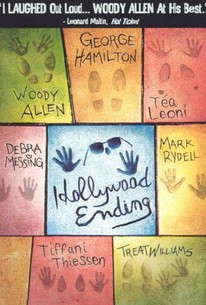 Movie Info
A film director's last film is a hit in Europe but bombs in America, and he is considered to be past it. However, his girlfriend convinces studio bosses to let him make a film about old-time Hollywood. What the studio doesn't know is that the director is blind. He manages to do the shoot, with the help of his Chinese assistant and, of course, his psychiatrist.
News & Interviews for Hollywood Ending
Critic Reviews for Hollywood Ending
Audience Reviews for Hollywood Ending
Sadly ridiculous with probably one of the worst casts Allen has assembled for any of his films.
Tony Gandía
Super Reviewer
Frustrating. This premise had the potential to yield a very good Woody Allen film, rather than a merely adequate one. The blindness gags could have been much more creative and varied. Instead of just repeating the same weak dilemma of Allen being asked to choose between two props he can't see, why not go further? Show a hideous set with garishly mismatched colors. Show cast members being forced to dialogue in awkward positions: standing too far apart, or facing in opposite directions. Something. What's most surprising that the film-within-a-film's dailies are not shown at all -- this was an easy opportunity for humor lost. One might argue that Allen's comic style is more subtle, but he certainly wasn't above including a broad pratfall and multiple accidents with crashing objects. Still, the story's most annoying flaw is rather simple: Allen's character shows no ability whatsoever to turn his head to the sound of someone's voice. Come on...maintaining this much realism was possible. Meanwhile, Tiffani Thiessen's eye-popping bit part reminds us of what a superstar she would be, if she only could act.
Eric Broome
Super Reviewer
First and last thirds (when Woody's not doing his insultingly unconvincing blind man routine) are actually pretty nice. While I love Debra Messing on "Will & Grace," she's too smart to play dumb.
Alice Shen
Super Reviewer
Hollywood Ending Quotes
There are no approved quotes yet for this movie.