Je Vous Salue, Marie (Hail Mary)
(1985)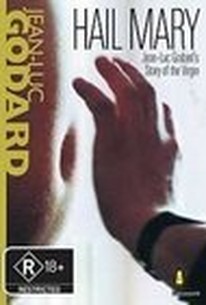 Je Vous Salue, Marie (Hail Mary) Photos
Movie Info
Hail Mary is Jean-Luc Godard's first sustained examination of modern spiritual life. This complex episodic film parallels the story of a contemporary Joseph (Theirry Rode) and Mary (Myriem Roussel) with that of a science class studying the origins of life on earth. Joseph is a cab driver and Mary plays on a woman's basketball team. A thuggish angel (Philippe Lacoste) tells Mary that she is with child. When she tells Joseph that she is pregnant, he accuses Mary of having cheated on him. The professor of the science class (Johan Leysen), who is having an affair with one of his students (Anne Gauthier), presents the theory that life came to earth from somewhere else in the universe. Godard organizes scenes from these two narratives into an essay about the relationship between the spirit and the body, and how being is born from nothingness. The film is filled with images of light cascading over the Swiss countryside. Godard often has his cinematographers Jean-Bernard Menoud and Jacques Firmann shoot directly into the sun and capture ravishing shots of pure luminosity. Hail Mary is introduced by a short film by Godard's frequent directing partner Anne-Marie Miéville entitled The Book Of Mary, the story of a young girl named Marie whose parents separate. Miéville's film continues the philosophical reflection on children that she and Godard started in Numéro deux(Number Two). ~ Louis Schwartz, Rovi
Critic Reviews for Je Vous Salue, Marie (Hail Mary)
Audience Reviews for Je Vous Salue, Marie (Hail Mary)
An offbeat movie for which I'm too intelligent to grasp the spiritual story it's supposed to convey. Gave up after trying (& tolerating with patience) for half-an-hour.
familiar stranger
Super Reviewer
Godard's had some really interesting ideas here but the movie ends up being pretentious & unengaging
Je Vous Salue, Marie (Hail Mary) Quotes
There are no approved quotes yet for this movie.