Godzilla and Mothra: The Battle for Earth (Gojira vs. Mosura)
(1992)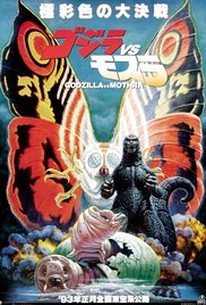 Godzilla and Mothra: The Battle for Earth (Gojira vs. Mosura) Photos
Movie Info
Godzilla is reunited with one of his arch-enemies in this remake of the Japanese monster classic. When a meteorite crashes to Earth in the Pacific Ocean near Japan, the consequences are remarkable; it manages to awaken the dormant monster Godzilla, it uncovers a huge egg that had been buried on Infant Island, and it revives Battra, a mammoth insect that destroyed a primitive civilization on the island long ago. Takuya (Tetsuya Bessho), an archeologist and adventurer, is sent to the island by representatives of a large Japanese firm in order to get the situation under control; joining him is Masako (Satomi Kobayashi), Takuya's ex-wife, who is also an executive with the corporation. On the island, Takuya and Masako meet the Cosmos (Keiko Imamura and Sayaka Osawa), a pair of tiny identical twins who are the last remnants of the civilization destroyed by Battra. It seems that the egg contains a descendant of Mothra, who was the great protector of their society, and the Cosmos believe that the presence of both Battra and Mothra indicates that the gods are angry. The egg is shipped back to Japan, but en route, the larvae of the giant moth hatches just in time to do battle with Godzilla, who (as usual) is in a bad mood and wants to break things. Godzilla makes his way to Japan and begins laying waste to everything in his path; Mothra and Battra set aside their differences and join forces to stop him. ~ Mark Deming, Rovi
News & Interviews for Godzilla and Mothra: The Battle for Earth (Gojira vs. Mosura)
Critic Reviews for Godzilla and Mothra: The Battle for Earth (Gojira vs. Mosura)
Audience Reviews for Godzilla and Mothra: The Battle for Earth (Gojira vs. Mosura)
Godzilla vs. Mothra again delivers effective thrills for genre fans and has a pretty good plot. I really liked this entry because it put the two monsters from one of my Favorite entries the franchise again in a new entry that nonetheless delivers what you want in an effective monster film. The plot is good. However the effects kind of lack and look a bit cheesy and obviously fake. The film works well and is fun despite its flaws, it's a must see for fans of the series. The film is entertaining, and has some memorable moments. Although nothing new is going on here, and even though it lacks in originality, fans will surely enjoy the traditional elements going on. The film is entertaining from start to finish and boasts all the elements which make for a good Godzilla film. Genre fans will surely enjoy it, and if you've enjoyed the previous outings in the revamped franchise, then you're sure to be entertained by this entry. Monster films tend to be basic and they always are entertaining despite its imperfections, diehard fans will enjoy it, and with so-so effect, they will most likely appreciate the camp value of the picture. The picture has a few parts were it could have been better, but as a whole it is a fine little monster movie that retains all the ingredients of what makes an effective film. The film is thrilling and is a must for genre fans.
Godzilla vs the moth, a remake. There is another antagonist introduced in this film that is more interesting, Batra. Sadly Batra isn't used as much as he should have been, and the end result is another mediocre "human element" film with a few minutes of uninteresting Kaiju battles.
Bryan Davis
Super Reviewer
The special effects are far from the quality of the previous entry (with some model sets looking like something from a 'Thunderbirds' episode) but the fun factor is turned up high. Battra is a very interesting creation and the way his motivations clash with Mothra's adds rare dimension to the monster action. The tone is much more playful and light than in 'Godzilla vs. King Ghidorah' but this is un-avoidable considering this is a movie involving a giant fluffy moth. The human melodrama is also surprisingly engaging and has a lot of nice comedic moments that never feel overly cheesy. Overall, a great entry in the franchise.
Christopher Heim
Super Reviewer
Godzilla and Mothra: The Battle for Earth (Gojira vs. Mosura) Quotes
There are no approved quotes yet for this movie.