Le Voyage du Ballon Rouge (The Flight of the Red Balloon)
(2007)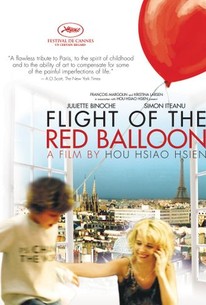 Le Voyage du Ballon Rouge (The Flight of the Red Balloon) Photos
Movie Info
Le Voyage du Ballon Rouge (Flight of the Red Balloon), which constitutes celebrated Taiwanese director Hou Hsiao-Hsien's first French-language picture, represents both an homage to Albert Lamorisse's beloved 1956 short The Red Balloon and an expansion of that earlier picture. Hou begins with Lamorisse's central conceit -- that of a mysterious red balloon tracking a lonely young French boy around the city -- and broadens the story to weave an extended meditation on urban isolation and dysfunctional, slightly broken Parisian lives. The red balloon here acts as a kind of observer to a little boy named Simon (Simon Iteanu), who lives with his harried mother, Suzanne (Juliette Binoche) -- a voice actress in a puppet theater -- in a cramped flat in the City of Lights. Simon spends the majority of his time away from Suzanne, accompanied by a Chinese film student, Song (Song Fang), who baby-sits. From time to time, Suzanne recognizes her neglect of young Simon and then overcompensates with sporadic bursts of affection and devotion. She remains far more concerned with the pressures of her daily life -- specifically, the problems wrought by her downstairs tenant (Hippolyte Giardot) and by Simon's ere-estranged father -- than with the emotional state of her young son. Meanwhile, Song finds the parallels between the suddenly emergent red balloon and the plotline of the Lamorisse short rather mesmerizing, and films young Song with the balloon to underscore this point. For the most part, Hou foregoes major story developments and simply uses screen time to witness the interaction of Song, Suzanne, and Simon as they live out existences of quiet despair. ~ Nathan Southern, Rovi
News & Interviews for Le Voyage du Ballon Rouge (The Flight of the Red Balloon)
Critic Reviews for Le Voyage du Ballon Rouge (The Flight of the Red Balloon)
Audience Reviews for Le Voyage du Ballon Rouge (The Flight of the Red Balloon)
½
Hou's first film outside of Asia and his tribute to Lamorisse's Oscar-winning short is always engaging and pleasant to watch, even when at times we have the impression that it is drifting like the red balloon and its conflicts don't become as compelling as they could.
Carlos Magalhães
Super Reviewer
Visually strong and stunning and with a naturalistic plot, "The Flight of the Red Balloon" follows the characters and Paris´s day-by-day life. Nothing different or huge happens... that´s life just as it is. Like in "Three Times" (unfourtanely I´m just beginning to know Hsiao-hsien Hou´s work), we see a poetically filmed slice of common life. Albert Lamorisse ´s "The Red Balloon" is brought into the movie by the film student baby-sitter Song who films a short film about red balloons. I´m pretty sure that the first scenes where we see Simon talking to the balloon and later, alone in the metro, hiding himself from it are part of Song´s film. In "The Red Balloon" Pascal takes the bus and goes alone to school, but here we clear see that Simon never stays by himself. Also, Simon is a boy of "modern times" who likes video game and stuffs alike. When he is with the other school kids at the Musee d'Orsay (to look at the Félix Vallotton's painting "Le Ballon") and suddenly turns his head up and see the red balloon seems to be the first time he really sees the balloon (and not a "fake" one of Song´s film). I don´t know if the boy who plays Simon is a real actor, but he talks and acts so naturally that I tend to think he is not. Speaking about acting, Juliette Binoche is simply great. With a not usual character type to her, Binoche plays Suzanne (kinda mix of her previous characters in "Jet Lag" and "Code Unkown") amazingly joyful.

Rubia Carolina
Super Reviewer
½
"Brevity is the soul of wit." Hamlet, Act 2, Scene 2 In "The Flight of the Red Balloon," Suzanne(Juliette Binoche) is a puppeteer and divorced mother of two, living in Paris with her son Simon(Simon Iteanu) while her daughter Louise(Louise Margolin) lives in Brussels with her father. Due to the hectic nature of her work, Suzanne has just hired a new nanny, Song(Song Fang), who is an amateur filmmaker from Beijing. She reminds Suzanne of herself at a younger age when she worked as an au pair in London. That leaves Suzanne plenty of time to work on her passive-aggressive relationship with a tenant(Hippolyte Girardot). Outside of an episodic structure that shows off Paris to its best advantage, director Hou Hsiao-hsien does little else of interest with "The Flight of the Red Balloon", missing a valuable opportunity to comment on a meeting between eastern and western cultures with the arrival of a puppetmaster from China.(He does love his trains, though.) Sadly, there is also a bit of a running homage to the classic short film "The Red Balloon" which is a large mistake because you are never going to compare favorably to such a great movie, especially one that accomplished so much in so brief a running time.
Le Voyage du Ballon Rouge (The Flight of the Red Balloon) Quotes
There are no approved quotes yet for this movie.