Elles
(2012)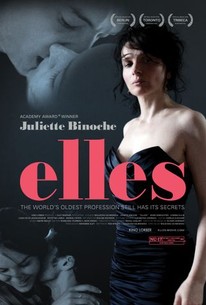 Movie Info
A provocative exploration of female sexuality, Elles stars the fearless Juliette Binoche as Anne, a well-off Parisian journalist investigating the lives of two student prostitutes (Joanna Kulig and Anaïs Demoustier) for a magazine article. What begins as a routine assignment, though, quickly turns personal, as Anne is drawn into the lives of these fiercely independent young women and forced to confront her own sexual fears and desires. -- (C) Kino Lorber
News & Interviews for Elles
Audience Reviews for Elles
½
In "Elles," Anne(Juliette Binoche) is a journalist who works out of her home that she shares with her husband and two sons. Her latest assignment is chronicling the lives of young escorts in Paris. Charlotte(Anais Demoustier) lives a double life, keeping her professional life from her family and boyfriend and working under an assumed name. Anne bluffs her way to make an appointment with Alicja(Joanna Kulig), another escort. After some reluctance, Alicja tells her tale of woe which starts with her arrival from Poland as a student only to find sexist landlords, her belongings stolen, an unsympathetic mother back home and eventually a home in the suburbs. Even with all of the smooth tracking shots in the world, there is no getting around the fact that "Elles" is one severely disjointed movie. A lot of that has to do with what it tries to say on the subject of prostitution. It is one thing to accentuate the erotic side of the profession; it is quite another to say that Anne with her comfortable life is in a less enviable place than the women she is profiling, as she might also have a drinking problem. And again there is only so much Juliette Binoche can do with such limited and inconsistent material.
½
A journalist, Anne (Juliette Binoche) in the course of interviewing two young women, students at a Paris University, about their working as call girls for an article for the European edition of Elle magazine, gets caught up in her work and befriends the two women. Strong performances, by all and an interesting look at what drives these girls to sell themselves this way, while trying to keep up appearances of normalcy. A few scenes of brutality were hard to take and seemed not to affect the girls as much as one would expect, which made this seem a little glossed over, but all in all, and interesting study.
Mark Abell
Super Reviewer
½
"Elles" is a French film made by a relatively young Polish-born filmmaker (Malgoska Szumowska) whom I've never heard of until now. I'm fairly certain she will be better known going forward. "Elles" does have weaknesses, but it also has impressive strengths. It establishes a place for Szumowska on the world-cinema stage. She is a filmmaker to watch. "Elles" is beautifully filmed. Szumowska is a master of cinematography and mise-en-scene. In many instances, just the way a shot was composed took my breath away. Equally gorgeous was the editing, with cross-cutting that was consistently innovative and almost always perfect. The film is masterfully acted, with the incomparable Juliette Binoche leading a superb supporting cast. Szumowska clearly knows how to direct actors and is able to handle middle-aged and young actors equally well, a rare skill. Every character felt authentic to me, from the teenagers to the fortysomethings. One of the hallmarks of a true artist, I believe, is the ability to empathize with characters of all ages -- seeing the world from their different perspectives. The story line is as follows: A well-educated, middle-aged wife and mother (Binoche) is a Parisian journalist researching an article on young female prostitutes. We go along with her as she conducts several interviews with the young women. We also go along with the prostitutes on some appointments, so we get to know them first-hand as well. The film is almost as much about the young prostitutes as it is about the journalist, but it digs more deeply into the character of the journalist. Szumowska's major interest is how the experience impacts Binoche's character. This journalist who has up until now led something like the perfect bourgeois life, finds herself distracted and irascible at home. I loved watching Binoche bring this vague ennui to life. She's not specifically unhappy about anything, but getting to know the prostitutes has vaguely unsettled her. I love that the film doesn't get too specific about this. But this strength is paradoxically also a weakness. It gives the film a sketchy quality that can at times feel irritating, as if the film lacks a story arc. The film is also at times repetitious. But overall, "Elles" is one of the most interesting pieces of work of the cinema season. In a year that has so far been incredibly disappointing with regard to cinema, "Elles" stands out as a brave and authentic work of art. A work of true cinema.
William Dunmyer
Super Reviewer
Elles Quotes
There are no approved quotes yet for this movie.