Dude Bro Party Massacre III
(2015)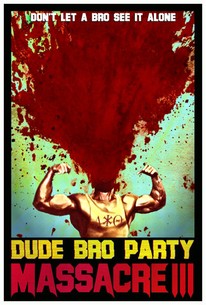 Dude Bro Party Massacre III Photos
Movie Info
DUDE BRO PARTY MASSACRE III is the brainchild of 5 Second Films, an LA based company creating and distributing short viral videos (way before Vine and Twitter) which Time Magazine listed as one of the 50 Best Websites in 2013. They've been featured on CNN, "Tosh.0" and "Attack of the Show" garnering attention from popular celebrities like Patton Oswalt, Andrew W.K. and Larry King who all have stand-out roles in DBPM3. (C) 5-Second Films and Snoot Entertainment
Critic Reviews for Dude Bro Party Massacre III
Audience Reviews for Dude Bro Party Massacre III
Finally, I have started this review at 6:41 pm. I'm probably gonna eat really late tonight as well, considering that I just put a drink in the freezer and, since it's almost full it's gonna take a while until it's drinkable. You people don't care about that, so why am I telling you? It's like I'm using this as a diary. Pfft, please. Diaries are for homos and I'm no homo. I'm kidding, I'm not some sort of neanderthal. I guess it sort of fits into the theme of this movie and the sheer machismo that's on display on here. Before we get to that, however, I think we need to talk about spoof movies. Spoof movies, really, are as old as time itself. That's an exaggeration, of course. But this is a genre that is near and dear to my heart. Some of my favorite movies, as a young child, were of the spoof variety. I loved Hot Shots (both of them) and the Naked Gun Trilogy. More the latter than the former, since I found Leslie Nielsen to be one of the funniest men I had ever seen at that young age. To the point that, bear with me here, my mom actually took me to the movie theater to see Mr. Magoo before Disney pulled it from theaters after two weeks because blind and near-sighted group claimed the movie made fun of their disabilities. I don't remember much of the movie to opine one way or the other, but these are the groups of people that would be affected by such a movie, so I'll trust their opinion over, say, Siskel and Ebert's, who claimed the movie was not offensive to these groups. Which is sort of like a white person telling a black person what is or isn't a racist remark. That's neither here nor there, the point is that I loved me some Leslie Nielsen. Of course, being a man, while I still love the man, it's obvious that he's not the funniest person to have ever lived. Now that I'm a man, however, one of my favorite comedies is a spoof. And it's a spoof of horror movies, which this one is. That movie is, of course, Young Frankenstein. This movie is a masterpiece of comedy and if you disagree with me then you must be on drugs. While Young Frankenstein pokes fun a the old Universal horror flicks, mostly, duh, Frankenstein, it's also a very loving tribute to them as well. And that's a word that I wanna come back to, loving. I think the best spoof movies do just that. They obviously poke fun at their inspiration's silliness, but they also do it in a way where you know they respect the source. Films like Epic Movie, Date Movie, Meet The Spartans, etc, etc, etc, fail not just because their jokes are terrible. They fail because they refuse to understand why the movies they're making fun of worked. If they actually studied the films they're spoofing and why they were successful, Seltzer and Friedberg (the abominations behind the aforementioned movies) might actually end up making a good spoof. Also spoofing Borat, which is already supposed to be funny, is kind of redundant. Your spoof of Borat is, in no way, shape or form, funnier than Borat itself. So, please, just don't do that. Regardless, I keep digressing. The reason I bring this up in reference to this flick is the fact that this is the good kind of spoof. The spoof that 'examines' why 80s slashers works. There's an understanding of the genre and an appreciation for the movies they are making fun of, hence why the movie, really, is a lot of fun to watch. Authenticity is key, which is why the visual style of this film is that as if someone recorded the movie on their VHS when it aired on cable television. In fact, really, this is a VHS recording of the movie, complete with commercial breaks and everything. These guys really put in a lot of work at making the film look and feel authentically 80s. Complete with cheesy 80s music, camptacular gore and special effects, ironic homoeroticism with the bros not allowing any women on their weekend at the lake, in an old sorority house. Upon having seen the trailer, I was honestly really worried. The reason for that is because I thought that this would be a one-note joke and that, quite frankly, that joke would get stale very quickly. Like, say, 20 minutes in. But, as Doctor Farnsworth from Futurama would say, good news everyone! I mean, the movie is about making fun of the machismo associated with the 80s era and the characters at the center of it who, in spite of the movies painting them as heroes, really are kind of major assholes. The Delta Bis, the fraternity at the focus of this movie, are major assholes. Their pranks have ended with thousands of people, literally, dead. The villain of the film, the previous villain's twin sister and the 'original' movie's daughter, even points this out. And, you know what, she was completely right. These guys are assholes and maybe Motherface (as the villain is called) is meant to be heroine of the film. Anyway, the movie looks at Brock's (who was killed at the beginning) twin brother, Brent, joining the frat to, maybe, find out who killed Brock so he can avenge him. While there, he has to ingratiate himself and pretend to be part of the frat, even if he really doesn't want anything to do with these people. There's the typical struggles between the two 'alphas' of the group, Turbeaux and Brent. It's very dude bro-ish. The thing about this movie is, however, that there's a lot shtick thrown out there and with movies like this, it's usually hit or miss. I'll say something first, though. It should be obvious that I enjoyed this movie. I can't hate a movie with this title that features a cameo by Larry King as a high school coach who gets killed by Motherface. Yes, really. That same Larry King that worked for CNN for ages. I think that, legally, it should be impossible to hate a movie with this title and with Larry King in it. Maybe Trump (who would have fit right in with these group of assholes) can sign an executive order or something. Regardless, the movie is obviously in on its own joke which, in Sharknado's case has always been a negative. It's not a negative in this case because, unlike Sharknado where they never really put in the effort to make a good movie, you can tell that these guys tried to make a genuinely entertaining movie. And I'd have to say they succeeded. Obviously, this movie was funded by Kickstarter, they didn't have the biggest budget but, you know what, in this case, it's actually a benefit to the movie. Because the cheaper the movie looks the more authentic it's gonna be. Having said that, to come back to the point I was trying to make about movies heavy on shtick being hit and miss, not every joke in this movie is a success. They throw so many at you that I can't really remember the ones that fell flat, but there are a few here and there. Like convincing Sminkle to go after the dude bros because they're actually bags of oranges and that their existence has led to a shortage of oranges is their county is one of those. I mean, the payoff at the end is actually kind of funny, but it doesn't really work when the joke is first thrown out there. Samzy also created a robot of himself that Brent accidentally kills after he made Brent Dirty Dance him. The payoff, again, wasn't all that good. There's a few others, but I can't remember them. But, thankfully, a lot of the jokes are also hits, so the weaker moments don't really end up hurting this too much. This was a movie designed, from the ground up, to be a cult classic and, honestly, there's no reason that it shouldn't become one, if it isn't already. I can see this being sort of a smaller version of Big Lebowski, where people hold screenings and scream out the quotes as they're happening on-screen. It's just that type of movie. It's a movie made by fans for the fans of this genre. It's obviously a very stupid movie, but that is part of the charm, plus it was also designed that way. I don't know what else you want me to say, I had fun watching this movie and I feel that most hardcore horror fans would enjoy this too. It's not gonna be for everyone, but I enjoyed my time with this.
Jesse Ortega
Super Reviewer
Dude Bro Party Massacre III Quotes
There are no approved quotes yet for this movie.