A Dirty Shame
(2004)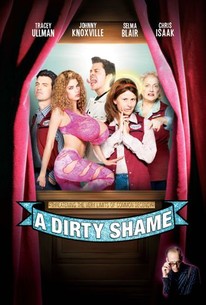 TOMATOMETER
AUDIENCE SCORE
Critic Consensus: John Waters casts his provocative eye toward libido in a sex satire that won't leave audiences feeling too Dirty, but this sophomoric farce doesn't strike a nerve like his best work -- a real Shame.
Movie Info
Lust is in the air on Harford Road and Sylvia Stickles, a grumpy, repressed middle-aged Baltimorean, doesn't like it. Though Sylvia's handsome husband Vaughn still has marital urges, his wife could not be less interested -- she has more important things to do. Not only does Sylvia run the family's Pinewood Park and Pay convenience store, she's also responsible for watching over her exhibitionist daughter Caprice. A go-go dancer known to her adoring fans as Ursula Udders, Caprice and her stupendously enlarged breasts are currently under house arrest after several "nude and disorderly" violations. But Sylvia's world is turned upside down one day after suffering a concussion in a freak traffic accident. Sexy tow-truck driver Ray-Ray Perkins rushes to her aid, and the stricken Sylvia realizes he is no ordinary service man; he's a sexual healer who brings Sylvia's hidden cauldron of lust to the boiling point.
Critic Reviews for A Dirty Shame
Audience Reviews for A Dirty Shame
Mediocre comedy with a few laughs strewn throughout, A Dirty Shame directed by Pink Flamingos director John Waters should have been much better considering its premise. Unfortunately, the film has a weak script that just doesn't deliver what it should have. I really wanted to enjoy the film, but most of the gags fell flat, and Waters can't seem to construct something memorable here. I will say this, this is far better than the awful mess Pink Flamingos, and he has managed to make something with a bit of humour, but overall due to its script, and lack of effective ideas, the movie as a whole suffers. The cast could have been better as well, and there is no one that stands out. This film should have been much better than what it turned out, and it's a shame because it could have been something really amusing. Aside from a few laughs, the film lacks something to make an effective comedy. I really wanted to enjoy the film, and I can see that this was a film that had plenty of great ideas that was halted due to a lacking script. If the script would have been significantly tighter, with better gags, I think A Dirty Shame would have a very good film. Instead we get a mediocre comedy with mild laughs and so-so acting. The cast is varied enough, but there is just no spark to really make this film take off. A Dirty Shame is a film that has plenty of potential, but ultimately just disappoints the viewer that wants something more out of their viewing experience.
½
Waters try to make this film a extremely funny and dirty. The thing is: he transform A Dirty Shame in a very silly movie. However, still commit some laughs.
Lucas Martins
Super Reviewer
A Dirty Shame is the perfect title for this movie. Its got all the random, demented, kitschy and riotous humor that most John Waters movies have. I won't lie when I say I was laughing uncontrollably and obnoxiously for the first 45 minutes of this movie. Unfortunately A Dirty Shame turns into a pile of pointless nonsense that was always there with this movie, but my tolerance kicked in and kind of expected a little more making the movie... a dirty shame. This definitely wasn't my first rodeo as far as John Waters was concerned but I guess I just wanted a little more plotwise. Don't get me wrong, this movie was hysterical and well worth the NC-17-rated watch for the hokey pokey scene alone. It just fell apart at the end.
Michael Gildea
Super Reviewer
A Dirty Shame Quotes
There are no approved quotes yet for this movie.