Camille Claudel, 1915
(2013)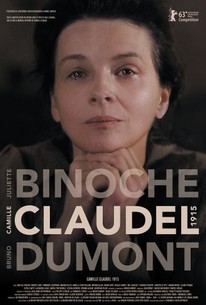 Camille Claudel, 1915 Photos
Movie Info
Juliette Binoche gives a mesmerizing performance as the brilliant sculptress, protégé of Auguste Rodin (and later his mistress), and sister of the Christian/mystic poet Paul Claudel - who, by 1915, was confined to a remote, church-run asylum for the mentally ill near Avignon. Bruno Dumont's rigorous, hypnotic portrait suggests that Camille's intense creativity and bohemian mores were on an inevitable, tragic collision course with her conventional Christian family and the expectations of early 20th century French society. Camille's paranoia (she believes Rodin is plotting against her) and occasional violent outbursts complicate her situation. Dumont peoples his film with real asylum patients, giving the film a disturbingly realistic dimension that adds to its poignancy. (c) Kino Lorber
News & Interviews for Camille Claudel, 1915
Critic Reviews for Camille Claudel, 1915
Audience Reviews for Camille Claudel, 1915
½
"Camille Claudel 1915" has a couple of great things going for it, like an excellent performance from Juliette Binoche in the title role of a woman who was at one time a lover and protege of Rodin and a sculptor in her own right, and a valid point about the state of mental health a hundred years ago, allowing a woman to be trapped in an asylum for decades against her will. That's especially hard to take considering she is much healthier than her fellow inmates and her brother Paul(Jean-Luc Vincent) has delusions of his own. But that's pretty much it and nowhere near enough, as Bruno Dumont does little more with the source material of letters and medical records than to simply transcribe them. Look, I know he has never made easy films to understand but at least in the past he has tried to challenge the audience instead of making a tedious movie like this one.
Camille Claudel, 1915 Quotes
There are no approved quotes yet for this movie.