Anything Else
(2003)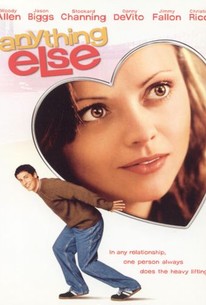 Movie Info
Jerry Falk is an aspiring writer in New York, who falls in love at first sight with a free-spirited young woman named Amanda. Jerry has heard the phrase that life is like "anything else," but he soon finds that life with the unpredictable Amanda isn't like anything else at all.
Critic Reviews for Anything Else
Audience Reviews for Anything Else
This wasn't very good. The story was bleah and the actors didn't seem to put out performances at all. I didn't care what happened to any of these people halfway through.
Jason Spencer
Super Reviewer
I dislike movies about seasoned pros imparting advice to wide-eyed proteges. In terms of Woody's oeuvre, there was too much didacticism and not enough heart...
Alice Shen
Super Reviewer
it was kind of eerie to see american pie jason biggs emulate woody allen so accurately. christina ricci was uneven but she's completely gorgeous and i can understand why jason biggs is obsessed with her. evokes classic woody allen humor and falters at times but generally it's all good fun. i wouldn't consider it one of the better woody allen films but this is a movie where woody is thoroughly comfortable with his style and i think, in the later years, creates some variations. i want to hurt people who are all annie hall BLAH BLAH this and that. allen's not going to make another annie hall, but his style has always be the same. get over yourselves! all allen films are inherently the same and different.
Jennifer Xu
Super Reviewer
Anything Else Quotes
There are no approved quotes yet for this movie.