American Reunion
(2012)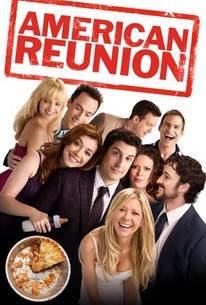 TOMATOMETER
AUDIENCE SCORE
Critic Consensus: It'll provide sweetly nostalgic comfort food for fans of the franchise, but American Reunion fails to do anything truly new or interesting -- or even very funny -- with the characters.
Movie Info
In the comedy American Reunion, all the American Pie characters we met a little more than a decade ago return to East Great Falls for their high-school reunion. In one long-overdue weekend, they will discover what has changed, who hasn't and that time and distance can't break the bonds of friendship. It was summer 1999 when four small-town Michigan boys began a quest to lose their virginity. In the years that have passed, Jim and Michelle married while Kevin and Vicky said goodbye. Oz and Heather grew apart, but Finch still longs for Stifler's mom. Now these lifelong friends have come home as adults to reminisce about-and get inspired by-the hormonal teens who launched a comedy legend. -- (C) Universal
News & Interviews for American Reunion
Critic Reviews for American Reunion
Audience Reviews for American Reunion
½
Decent but fun movie, really bring nostalgic and the producer decision to collecting all the old stars and bring em back together is just amazing.. At least the story wasn't that bad since it's everyday life.. But overall, after 12 years from it's first movie, American Pie bring a sequel that turns out to be entertaining even when they're already adult..
Sanjaya 丘耀文
Super Reviewer
½
It was okay. I didn't really like the younger teen cast and some of the older ones seemed surplus (I realize it wouldn't have been much of a reunion without them). It just seemed like the only funny bits were with Jim and Michelle. This would have been much better if it was just about them, maybe with more on Jim's dad meeting and dating Stiflers mum. Now that would have been a good movie! It wasn't bad, but it dragged and fell flat. Update - watched again 10/1/14. Have upgraded original review to 3 1/2 stars. I enjoyed more the second time. Maybe because my expectations were high on first viewing and very low this time! I also watched theatrical version instead of extended. Maybe that helped.
Nicki Marie
Super Reviewer
½
Hail to the Stifmeister! If someone had told me this would be just as funny as the original, I would have given him the look of doubt and thought "no way!". But it's astonishingly true; American Reunion is virtually as hilarious as its predecessor from -99. It's almost hard to believe it's been that long since we first aquainted ourselves with Jim and his colorful friends. So what have the boys been up to in those last 13 years? Well, quite a lot actually, and we're not just talking recessing hairlines here. Jim is now a dad, Oz a bit of a C-celebrity and reporter for a newscast, and Stifler, well, he's still very much the same, except now he occationally wears a suit and tie to his office job. What immediately becomes clear is 1.) some have aged more well than others, and 2.) the acting talent is still everything between mediocre and outstanding. Jason Biggs and Sean William Scott remain my favourites of the lot though. Not to mention Eugene Levy, who plays Jim's well-meaning, but embarassingly open dad. He keeps getting funnier with each film and delivers his best performance to date. Evidently they're not teens anymore, but as wild and crazy as they get here, it feels like no time has passed at all. So much could have gone wrong with this film, yet they nail every joke and keep the laughs coming throughout. And it wouldn't be an American Pie flick without the traditionally awkward situations, worth a couple of good cringes. But isn't just outrageously fun, it has heart too! All the character arcs are wrapped up with great and fitting closures, leaving you with a nice, warm feeling inside and a smile most satisfied. Even John Cho and Neil Patrick Harris make a short appearance in the film; the former of whom will always be legendary for coining the term "MILF". Nudity, alcohol, off-the-hook partying - it's all in there as it should be! But what separates this from the usual comedy fluff (or some of the other sequels in the franchise for that matter) is that it makes us feel like one in the gang, as opposed to just resorting to gratuitous sex scenes and excessive use of the F-word. Sure, it's really raunchy, but it has brains to go along with it! So if you love this bunch as much as I do, you'll be happy to know it's the best film since numero uno. Greatest of all, Stifler has still got it, delivering the biggest laughs of the movie and sealing his status as the most lovable deuche-bag of all-time! That and other merits makes me eager to come back for another slice of pie! Although preferably a piece that hasn't been anywhere near Jim. Update (2013-08-06): Not as great the second time around (hence a reduction from 4 to 3 1/2 stars). A re-watch made its imperfections all the more conspicuous. Still the best in the series since the original though.
American Reunion Quotes
There are no approved quotes yet for this movie.