A Few Days in September (Quelques jours en septembre)
(2007)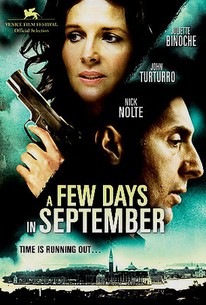 Movie Info
A spy discovers doing a favor for a friend leads her into unexpectedly dangerous circumstances in this dark comedy. It's been close a decade since French intelligence agent Irene (Juliette Binoche) has heard from her friend Elliot (Nick Nolte), an American CIA operative who left Europe and took up a new identity under mysterious circumstances. But one day out of the blue Irene gets a call from Elliot as he asks her to track down his daughter Orlando (Sara Forestier), currently living in the French countryside, and bring her to Paris so they can re-connect. Irene agrees, but she soon discovers Orlando has nothing good to say about her missing dad and only grudgingly agrees to pay him a visit. When they arrive in Paris, Irene and Orlando find the family reunion is bigger than they thought -- David (Tom Riley), Elliot's stepson, is also on hand, though David and Orlando mix like oil and water. As Elliot tries to juggle meetings with his two children and Irene tries to help by playing interference, Elliot is also visited by a deranged American intelligence representative, William Pound (John Turturro), who along with Elliot knows something about a possible attack on the United States, as well as a pair of shadowy moneymen (Mathieu Demy and Said Amadis) who want to know more about the plot and are willing to pay for the privilege. Quelques Jours En Septembre (aka A Few Days In September) was the first directorial credit for veteran screenwriter Santiago Amigorena. ~ Mark Deming, Rovi
Critic Reviews for A Few Days in September (Quelques jours en septembre)
Audience Reviews for A Few Days in September (Quelques jours en septembre)
After receiving word from her former colleague Elliott, Irene Montano(Juliette Binoche) collects his daughter Orlando(Sara Forestier) to meet him in Paris. But Elliott never shows. Which is a good thing considering that William Pound(John Turturro) is gunning for him. Who does show up is Elliott's stepson David(Tom Riley, of 'Da Vinci's Demons') who along with Irene and Orlando head to Venice, after losing William. All of which leaves the fate of Irene's pet turtle undetermined. "A Few Days in September" is an offbeat movie about family, intrigue, guns, travel and poetry and maybe not in that order. Considering when the story is set, the movie's leisurely pace could be thought of as symptomatic of a pre 9/11 way of thinking where all the clues are there but not the impetus to act on them. What is not up for debate is this being a movie that is helped out with both Juliette Binoche and John Turturro being in it, especially with Turturro speaking French.
½
Pursued by a poetry-quoting assassin, long-lost siblings travel across Europe with a French ex-spy to rendezvous with their father. The title A Few Days in September refers to the few days preceding 9/11. It's not giving too much away to say that the film assumes that the U.S. government knew about 9/11 before the attacks, but one of the film's weaknesses is that it doesn't do much with this charge. Does the government cause the attacks or merely allow them to happen? The film's idea doesn't figure heavily in the plot, and thus it becomes a political film with uncertain politics (excepting one scene in which Orlando recites the usual catalog of American offenses to the tepid objection of her brother). What remains when the politics are stripped away, which isn't hard to do, is a basic spy thriller. But don't tell Juliette Binoche this. Her acting is milquetoast and insouciant, and the younger actors pick up on Binoche's vibe. It is as though the stakes of spy thrillers is intentionally absent, but I can't figure why. I also found the John Turturro (in an impressively bilingual role) plot poorly concluded. I had hoped there would be greater motivation for his character. Overall, I can imagine conspiracy theorists liking this film but nobody else.
Jim Hunter
Super Reviewer
It is hard to describe the film because it tackles many important issues such as politics, society, and the world in general. The film has many great qualities to it but the only flaw, i would say that it is the idea of using the 9/11 attack as part of the story. It isnt because the tragedy is too delicate to discuss but because any other tragic event (less important) could have made the point. In using the 9/11 attack is just to attract people in seeing this picture when it is not necessary because the script itself is already brilliant. The 3 protagonists have such great chemistry together in the film that it holds the story perfectly. Plus, they have the most interesting conversations. And John Turturro is so good that it worth seeing the film, just because of him. Overall, it is a film to see because of its great dialogues and amazing cast.
Linda K. T.
Super Reviewer
A Few Days in September (Quelques jours en septembre) Quotes
There are no approved quotes yet for this movie.