4 Little Girls
(1997)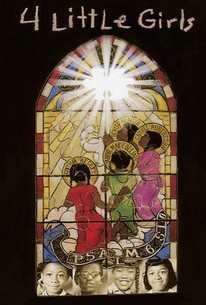 TOMATOMETER
AUDIENCE SCORE
Critic Consensus: 4 Little Girls finds Spike Lee moving into documentary filmmaking with his signature style intact -- and all the palpable fury the subject requires.
Movie Info
Spike Lee's first documentary is a simultaneously wrenching and provocative account of the 1963 bombing of a Birmingham, AL church that left four African American teenage girls dead and led to the Civil Rights movement. Archival footage, interviews with family, friends, historians, politicians and newsmen tell the grim tale.
News & Interviews for 4 Little Girls
Critic Reviews for 4 Little Girls
Audience Reviews for 4 Little Girls
This marked Spike Lee's first attempt at a feature length documentary, and the results do not disappoint. The subject matter, as you'd expect, is not new ground for him. In fact, he'd wanted to take a look at the story of how the deaths of four girls in Alabama played a role in the Civil Rights Movement for a long time...he just didn't get the opportunity until the late 90s. Perhaps that is a good thing though. With such a touchy subject like this, it can be beneficial to let it settle so new perspectives can be gained. And, in the case of the surviving family and friends of the victims, it takes a lot of time to be ready and able to confront the past. The film is quite well done. Yeah, there is a political message underneath it, but thankfully that aspect is downplayed, and the film is done mostly straightforward, with the events speaking for themselves, instead of Lee going at it Michael Moore-style. It's all very sad, and moving, and powerful, but it's done tastefully and with great amounts of respect. The film doesn't just focus on the event itself, but also the Civil Rights Movement in the South at large. I kind of expected and hoped for this, anyway. Even if you already know a great amount about the times, places, and events chronicled in this film, it's still a worthy piece of work for one's collection, especially as a scholarly/historical aid. For newcomers, it will be a very insightful, and probably shocking look at racial hatred and the tragic violence that too often is linked with it. Regardless of how you feel about Spike Lee personally, this is essential viewing.
Chris Weber
Super Reviewer
½
I am a fan of Spike Lee's work, so I quite looked forward to revisiting this insightful and touching documentary that I had not seen since high school. "4 Little Girls" centers around the 1963 bombing of 16th Street Baptist Church in Birmingham, Alabama. Four young black girls, Addie Mae Collins, Denise McNair, Carole Robertson, and Cynthia Wesley were killed in the bombing. One thing that struck me right from the opening credits was the peaceful music that played over striking images of Civil Rights protests, gravesites, and funerals. That contrast immediately set the mood for what was to follow. Another scene that stood out to me was when Denise's parents told the story of when they were forced to explain to her why she could not eat a sandwich at a whites only food court. I believe "4 Little Girls" is a documentary that should be shown in regular history classes, not only black studies classes. I say that because even in high school I did not learn of this sad story until I took a black studies class, and we watched this very documentary. Although my reactions were overwhelmingly positive, I still viewed the film with a critical eye. The criteria I followed when analyzing this particular film was a simple one. First, did it educate me on the topic? And second, did it provide me with an emotional connection to the subject matter? Those are really the two main qualities that I look for in a documentary. Entertainment value comes last. I have to say that the answer is a resounding yes to both questions. It was hard to cope with the fact that a garbage dump of all things was cleared for blacks to build homes on the land, then I learned that it was nicknamed "Dynamite Hill". The childish cruelness that goes along with hating an entire group of people was on clear display in "4 Little Girls". A reverend who was interviewed stated that about a third of the Birmingham Police Department was affiliated with the KKK, so when bombings or beatings took place, they found ways to circumvent investigations. A white interviewee spoke about the beating of Civil Rights activist Fred Shuttlesworth, who was beaten by a gang of white men (some wielding chains) in front of a Birmingham high school. He said it was especially unnerving because the police said they were having trouble finding the assailants, but the interviewee himself knew at least one of them, and knew that he associated with the police. Dr. Martin Luther King Jr. called Birmingham "the most thoroughly segregated city in the United States." ("4 Little Girls". Dir. Spike Lee, 1997) The extent of the segregation was unbelievable, and Lee did a wonderful job getting opinions from various sources, and loved ones connected to the girls. Some of the recollections were extremely sad. One of Cynthia's childhood friends could not hold back tears while reading a letter describing a time her mother corrected Cynthia as she made her way to church. Over 30 years later, and recalling one moment they shared together elicited that strong a response. That's only one example of many touching segments that are peppered throughout the film. Those moments really put into perspective the impact the girls left on the people around them. The scenes that were especially heavy were the parents describing when they learned that their children were killed in the bombing. Most notably the part when Denise's mom described her experience and trying to view the body. The morgue photographers were grisly. Quite terrifying knowing the stories surrounding them. The arrest and trial of the main bomber, "Dynamite Bob" Chambliss was disturbing, mainly because we learned that he was responsible for a majority of the Dynamite Hill bombings. This sad story was very well told in the film. I really only have one complaint. Perhaps Lee spends a little too much of the first half away from the personal stories of the four little girls, but perhaps that was the point. The second half covered a lot of the girls' stories. Spike Lee's "4 Little Girls" is not only about the tragedy that occurred in 16th Street Baptist Church, but also the shameful truth about the handling of the Civil Rights movement in Birmingham. It is a profoundly touching documentary that is not to be missed.
Ryan Rutherford
Super Reviewer
Brilliant Black director Spike Lee creates a compelling documentary on the lives of young Black people in the 50s. It's really good, if you like his work, you will want to see this movie as well.
4 Little Girls Quotes
There are no approved quotes yet for this movie.