The Women
(2008)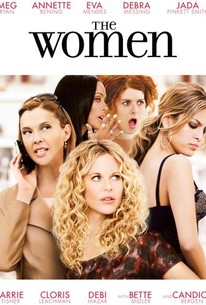 TOMATOMETER
AUDIENCE SCORE
Critic Consensus: The Women is a toothless remake of the 1939 classic, lacking the charm, wit and compelling protagonists of the original.
Movie Info
Mary Haines is a clothing designer who seems to have it all--a beautiful country home, a rich financier husband, an adorable 11-year-old daughter and a part-time career creating designs for her father's venerable clothing company. Her best friend, Sylvie Fowler, leads another enviable life--a happily single editor of a prominent fashion magazine, a possessor of a huge closet of designer clothes and a revered arbiter of taste and style poised on New York's cutting edge. But when Mary's husband enters into an affair with Crystal Allen, a sultry "spritzer girl" lurking behind the Saks Fifth Avenue perfume counter, all hell breaks loose. Mary and Sylvie's relationship is tested to the breaking point while their tight-knit circle of friends, including mega-mommy Edie Cohen and author Alex Fisher, all start to question their own friendships and romantic relationships as well.
News & Interviews for The Women
Critic Reviews for The Women
Audience Reviews for The Women
Murphy Brown creator Diane English tried to get this film made for fifteen years. Many of the choices in casting were exceptional, especially Meg Ryan as Mary Haines, who was the perfect relatable woman done bad by her hubby. Eva Mendes is an effortlessly salacious vixen, as the revamped Crystal Allen, as well. Otherwise, many of the characters and complex plot points were completely changed, for the better. Sylvia Fowler (Bening) is no longer a chatty gossip with a penchant for ruining lives. Now she is the editor-in-chief of a fashion magazine, completely single and loving it, and motivated by ambition rather than petty jealousy. Debra Messing's character seems to be an amalgamation, who represents motherhood, fertility, and the complexities of the American family. Jada Pinkett Smith's character is also a blend of characters, a welcome change as she is also a strong lesbian character, which was only hinted at in the original. Of course, the Reno angle was scrapped, as we live in a world where divorces can be much simpler and reasonable. Instead of plotting and planning her imminent reconciliation with her husband, Mary changes herself and becomes a stronger and more thoughtful designer and mother. This is much better in comparison, because the film is no longer geared at the idea of having a man, getting a man, losing a man, or missing a man. Instead it is a film about how women can thrive and move forward, and the importance of female friendships. Of course, the problem with this change is that we have seen it before. (Sex and the City, Diary of a Mad Black Woman, Crazy, Stupid, Love, The Other Woman etc.) There's nothing new about the narrative of woman can do bad all by herself. Without the original's biting wit, sophistication, or the idea that cattiness and tearing down other women gets you what you want, this doesn't work. It's simply gimmicky and stale. It's understandable that English would try and remove the grotesquely backward thinking of the original and create a unique and thoughtful adaptation that would celebrate women instead of canonize men. A better way to accomplish this is to keep the gimmick but completely change the story. An even better accomplishment would be to create a woman driven story without drawing attention to the fact that she's a woman, which is what Murphy Brown did when it premiered twenty years before this film was released. As much as I would like to tout this film as a decent feminist adaptation of a work in the male gaze, I can't.
Spencer S.
Super Reviewer
Even though I haven't seen the original, I don't think this remake is deserving of all its bad reviews. The women ARE types, but they represent all the different complexities of women, for better or worse: the woman who tries to be everything (Mary), the woman who IS everything until she isn't (Sylvie), the woman who knows everything and shares it (Tanya), the woman who knows everything and hides it (Edie and Catherine), the woman who observes everything and just laughs (Alex), and the woman who wants everything just because (Crystal). That last motivation for the ostensible villain is admittedly weak, but the rest of the movie isn't so much rah-rah woman-power, but just woman-life without posturing, cattiness, or easy choices.
Alice Shen
Super Reviewer
Bethany Murphy
Super Reviewer
The Women Quotes
There are no approved quotes yet for this movie.