Meet Bill
(2008)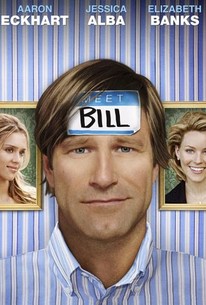 Movie Info
A henpecked husband locked in a dead-end job attempts to reclaim his life with a little help from a self-assured teen and a pretty lingerie sales girl in this bittersweet romantic comedy starring Aaron Eckhart, Elizabeth Banks, and Jessica Alba. Bill (Eckhart) is a walking doormat; his in-laws look down their noses at him, his wife, Jess (Banks), neglects him, and his love for chocolate is beginning to affect his waistline. When Bill discovers that Jess has recently struck up a "friendship" with hotshot local reporter Chip Johnson (Timothy Olyphant) that she can't quite explain, his fears that his wife may have strayed are quickly confirmed. One day, a group of kids from the mentor program show up at the bank Bill works at, and one particularly insightful boy (Logan Lerman) recognizes that all is not well with the hapless husband and banker. Convinced that all Bill needs to win his wife back and reclaim his life is a healthy shot of self-esteem, the quick-thinking teen teams with a perky lingerie sales girl named Lucy (Alba) to confront Bill's problems with humor and energy. In the process, Bill not only begins to break free from the inhibitions that have prevented him from achieving success in both his personal and professional lives, but also begins to realize his dreams of being financially independent and self-confident.
Critic Reviews for Meet Bill
Audience Reviews for Meet Bill
Daniel J DeMersseman
Super Reviewer
Bill: They hate that I'm working at their bank. I hate that I'm working at their bank.  Meet Bill is a perfect example that an exemplary cast can't hold up a movie that is without good material. The cast is great: Aaron Eckart, Elizabeth Banks, Timothy Olyphant, Holmes Osborne, Kristen Wiig, Jessica Alba, and Logan Lerman. The story, however, is extremely dull.  The story is about Bill. A man who's addicted to sugar, works at a bank with his in-laws, and has a wife that cheats on him with the local news guy. Bill then takes up mentoring a student and starts to try to find himself. His search is pretty boring. The movie wants to be insightful and funny, but it just comes off as a dull and unfunny comedy with no redeeming qualities; that will be forgotten twenty minutes after watching it. I honestly thought I would like this. I'm an Aaron Eckart fan. I've loved several of his movies. From Thank You For Smoking to The Dark Knight. From Conversations with Other Women(Extremely Underrated) to Rabbit Hole. He normally plays characters that are interesting. Here he plays a character that is extremely, ummm.... uninteresting and extremely boring.  Meet Bill is not funny enough to be a good comedy and not dramatic enough to be a good drama. It's just a piece of garbage. Once you throw it away, you forget about it.
Melvin White
Super Reviewer
½
Pleasant enough age crisis comedy that veers off course but Aaron Eckhart is good in the lead and keeps it on track as much as possible.
Meet Bill Quotes
There are no approved quotes yet for this movie.